For several years now it has been our goal to celebrate our big day in a new country, and this year we decided on Iceland. We awoke to a cotton candy sky at 6:30 in the morning after a comfortable sleep on each others shoulders. With eyes barely open we looked at one another and wished ourselves a happy birthday. Why Iceland? For Christmas we received a globe made of cork, and when we started placing pins in all the places we've been, we realized we haven't explored anywhere in Europe. Combine that with all the incredible pictures of this isolated island we knew we had to experience it for ourselves. When we arrived at the airport our first stop was to pick up our campervan… aka our bed/kitchen/and car for the next week, as we planned to do the full ring road in a mere seven days.
Tourist stop numero uno was of course the Blue Lagoon (it's equivalent to someone visiting Edmonton and not going to West Edmonton Mall). We tried to book an early morning soak, but apparently so did everyone else. We settled for the next available spots later in the afternoon, so we killed time with grocery shopping (surviving off the best cottage cheese we've ever tasted, and a variety of Froosh shakes). We got extremely lost on the way to the Blue Lagoon (even though we could see it from the road), so what do we do when in this situation… we got out of the van and took pictures of the rugged landscape of course. The walk to the lagoon was windy and cold and all we kept thinking about how nice that 38 degree geothermal water was going to feel on our jet lagged bodies. The first few steps in we both agreed that this is exactly how we wanted to spend our birthday, (in our bikinis, somewhere warm, and together). Located in the middle of the lagoon was a bar, but instead of wine or beverages they hand out a silica mud mask. You are allowed to apply as much as you want to your face and/or body, but we made the mistake of layering it on which as a result took forever to harden. However the end result was the same… silky soft skin. Now some people may have thought we were crazy as we carried our cameras across the long stretch of water merely wrapped in a towel, but slowly on our tip toes we made it work.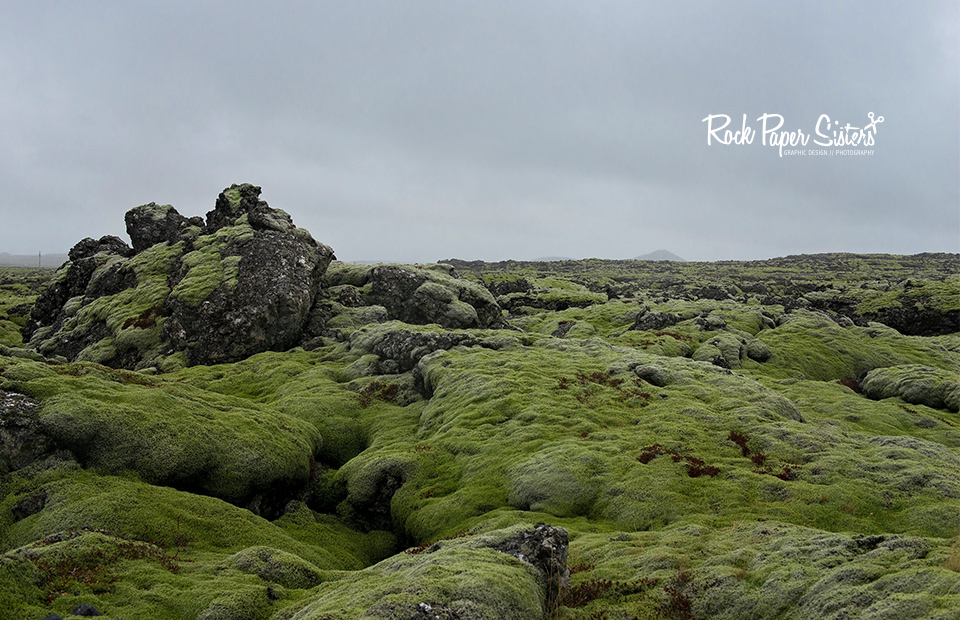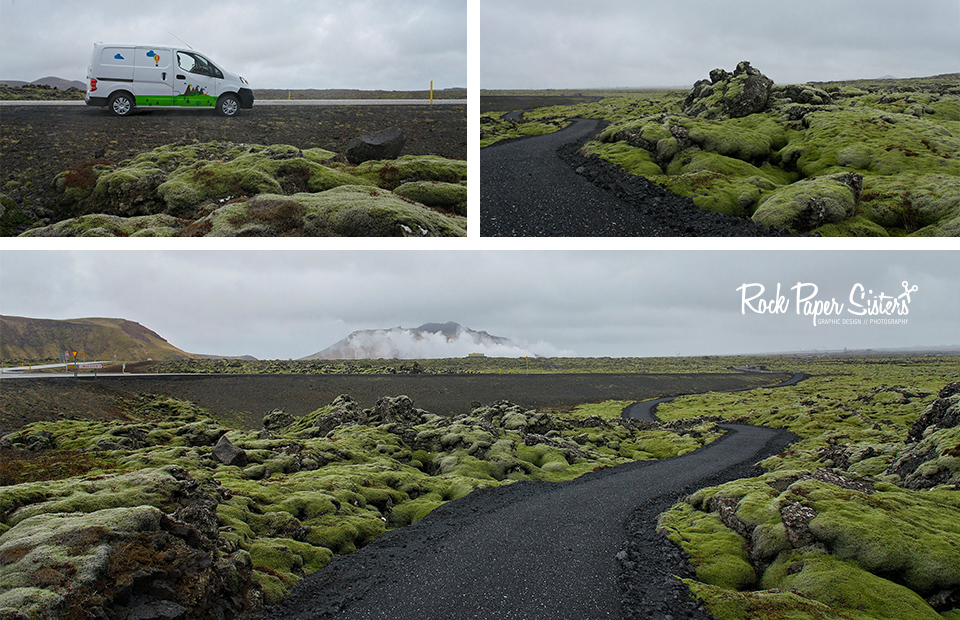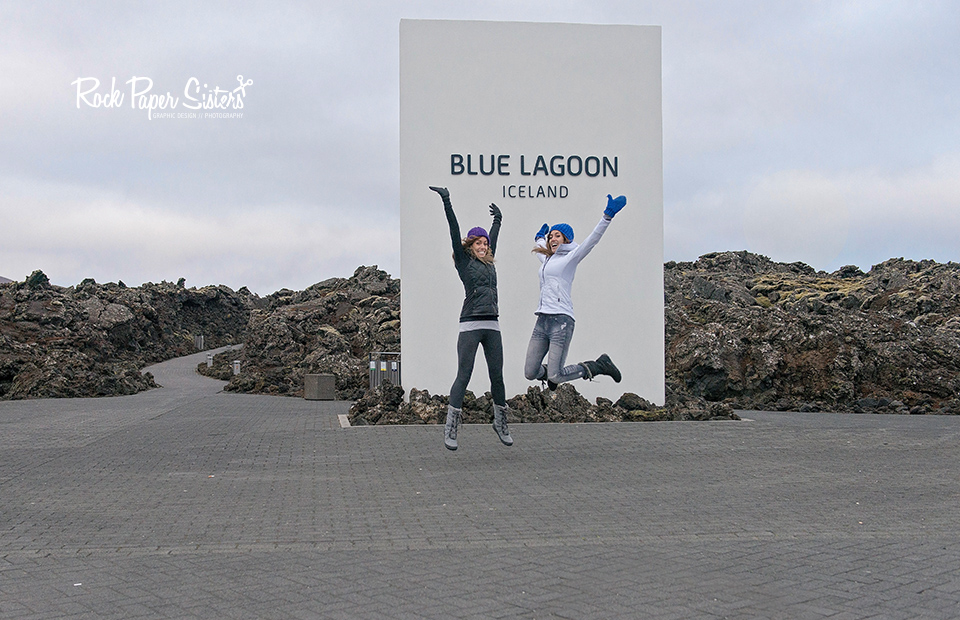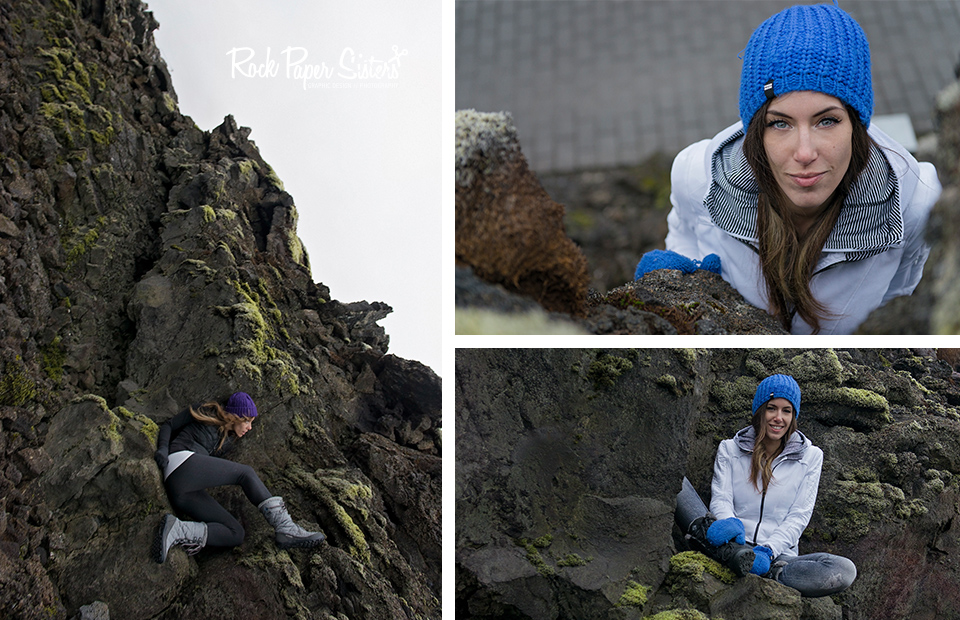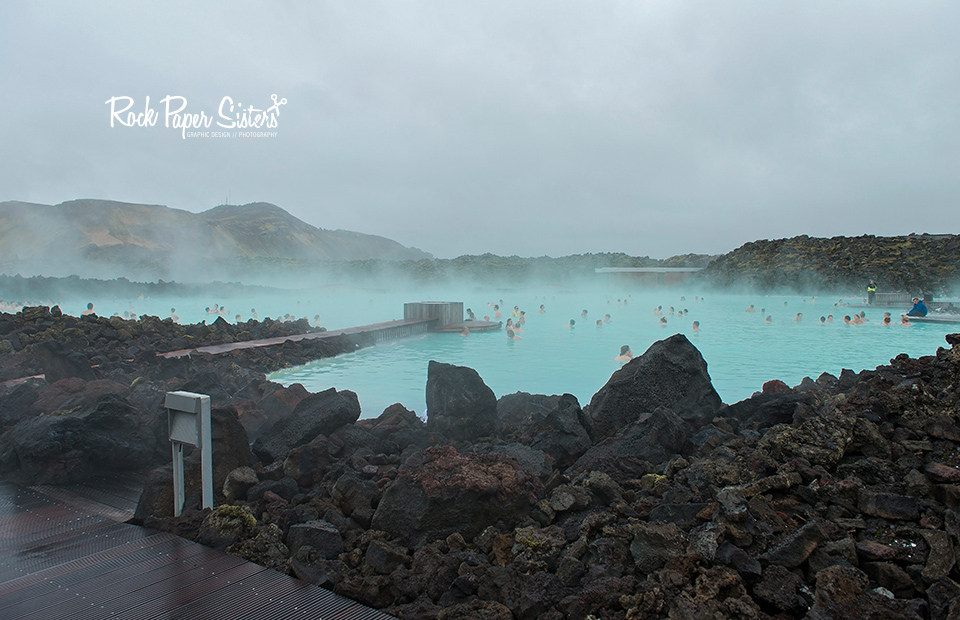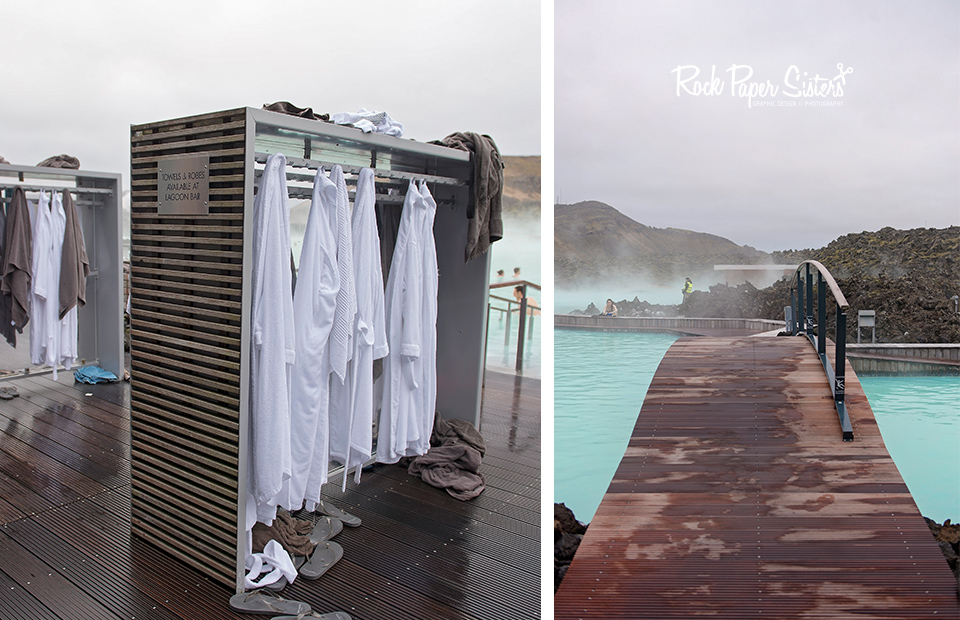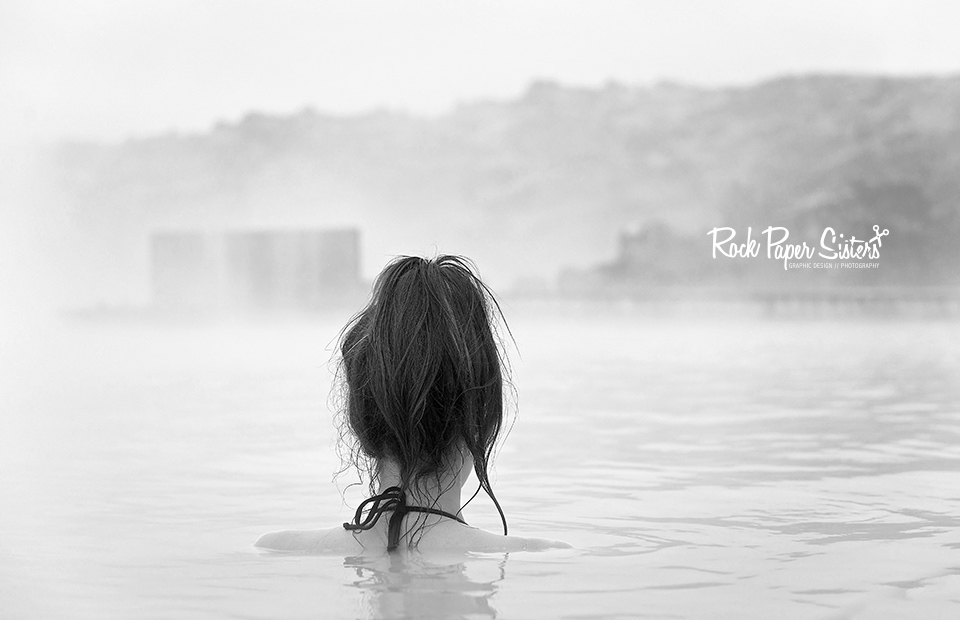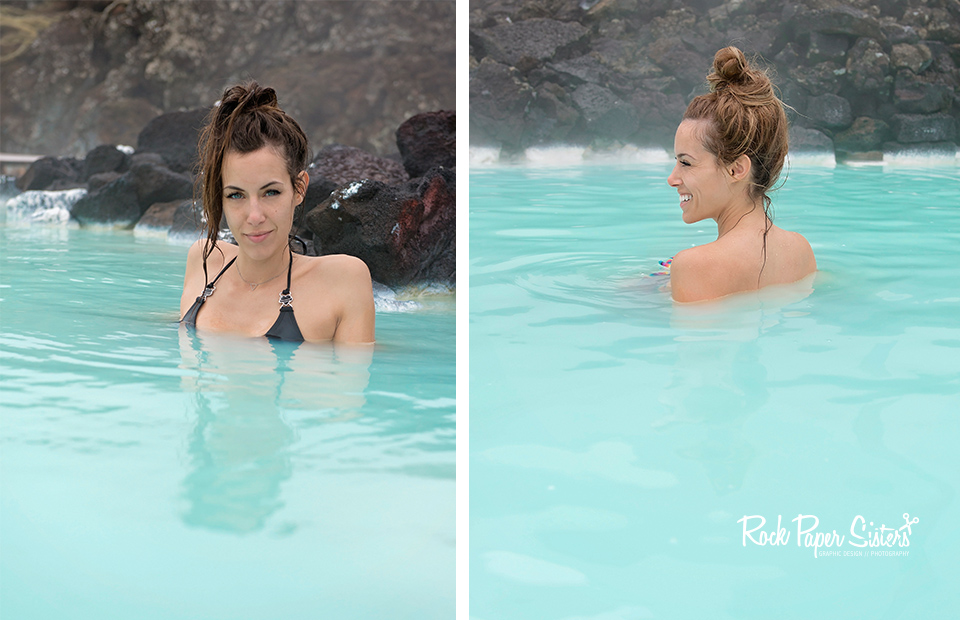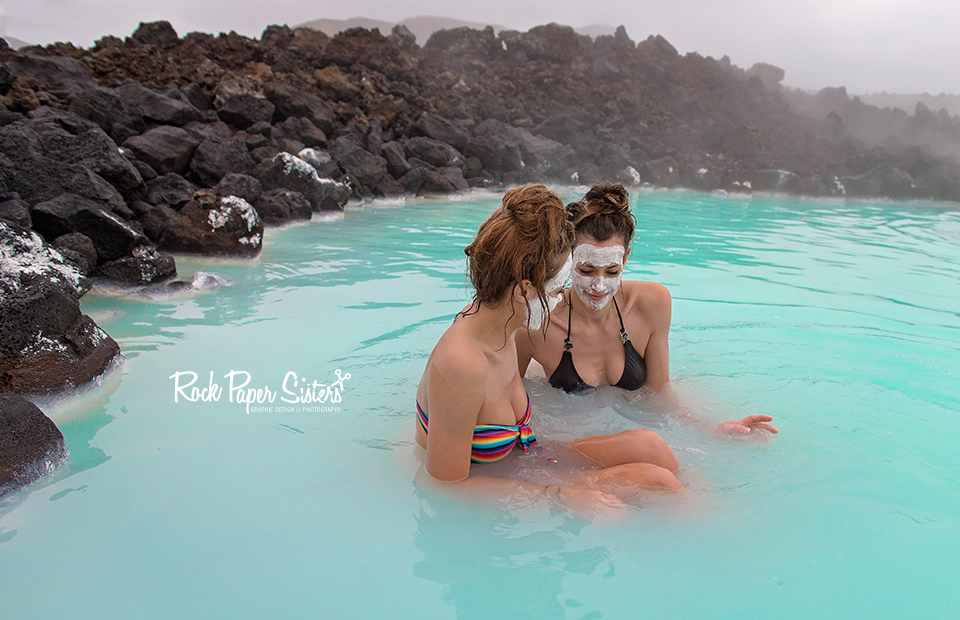 After our first night in the campervan we headed on our way to Seljalandsfoss, one of the most popular waterfalls in Iceland because you can actually walk behind it. The waterfall is part of the Selijalands river that drops down an impressive 60 meters. There are two sides up the waterfall so we took the route of the wooden stairs first, which gets very slippery to say the least. We were very carefully with our cameras, but that didn't seem to make much of a difference, after all we were behind a waterfall. Everything was so lush and green, especially for this time of year we couldn't even imagine coming here during the summer months. Our favourite part of the whole experience was the rainbow that was created when the sun and waterfall were seen at just the right angle. We spent a good couple of hours here before heading further south.
Iceland is well known for their rich story telling of elves, trolls, and ghosts since many believe in their existence to this day. As we continued counter clockwise around the ring round we arrived at Vík around sunset and thought to ourselves, "what a perfect way to end our day with the Vík Trolls on a desolate beach." The story behind the trolls goes like this… The Balsalt rock formations that can be seen from the black sand beach out in the Atlantic Ocean were believed to be trolls. As these trolls tried to pull their three masted ship to shore, they were caught at dawn and turned into rocks by the sunlight, forever stuck out there with the raging waves.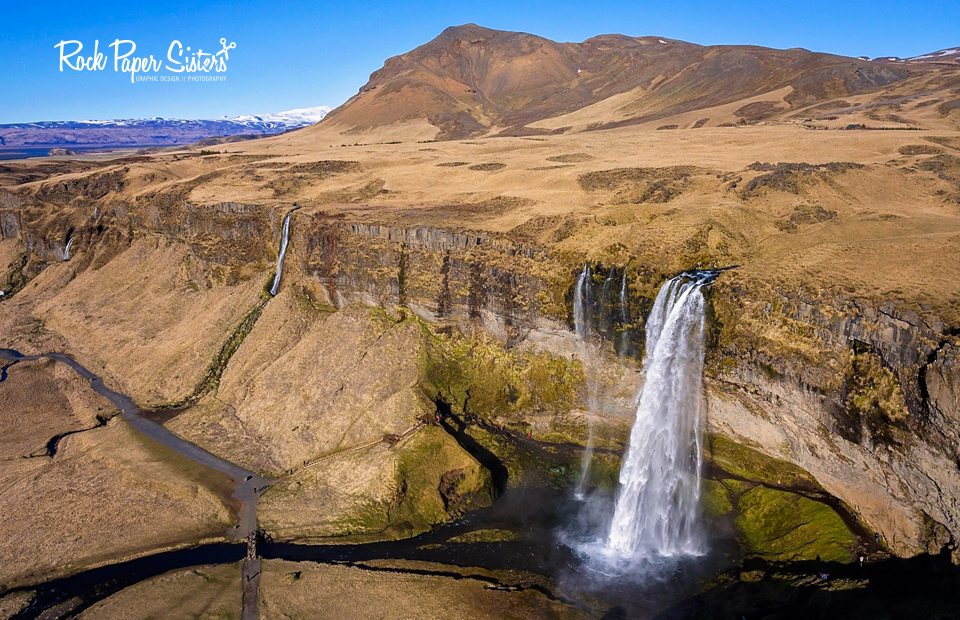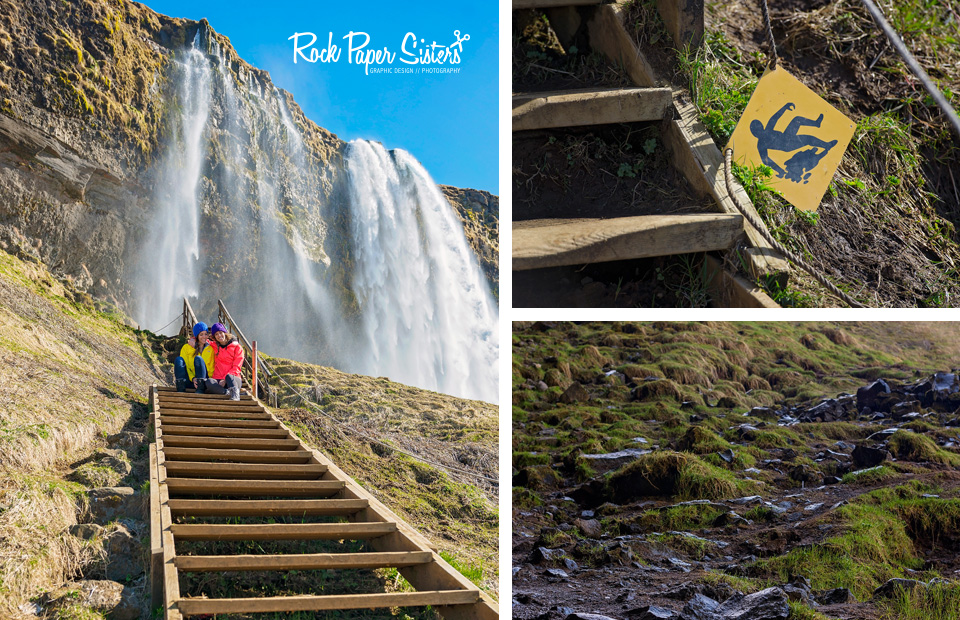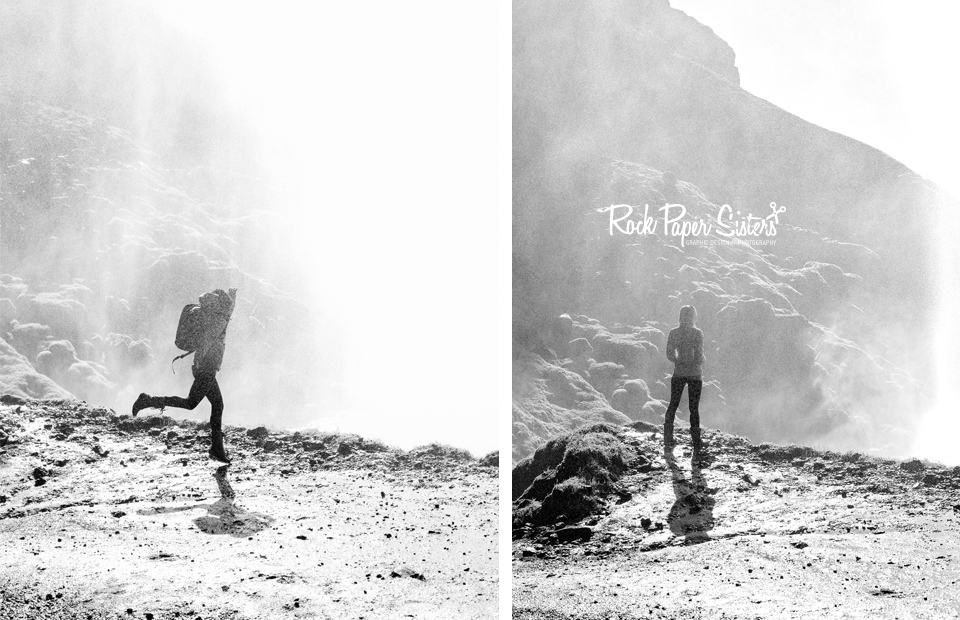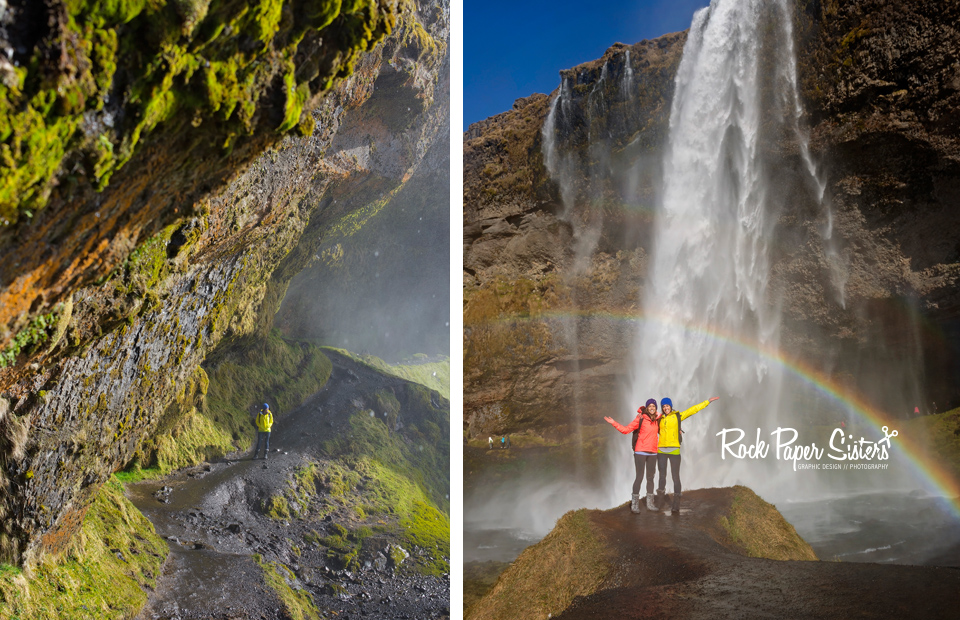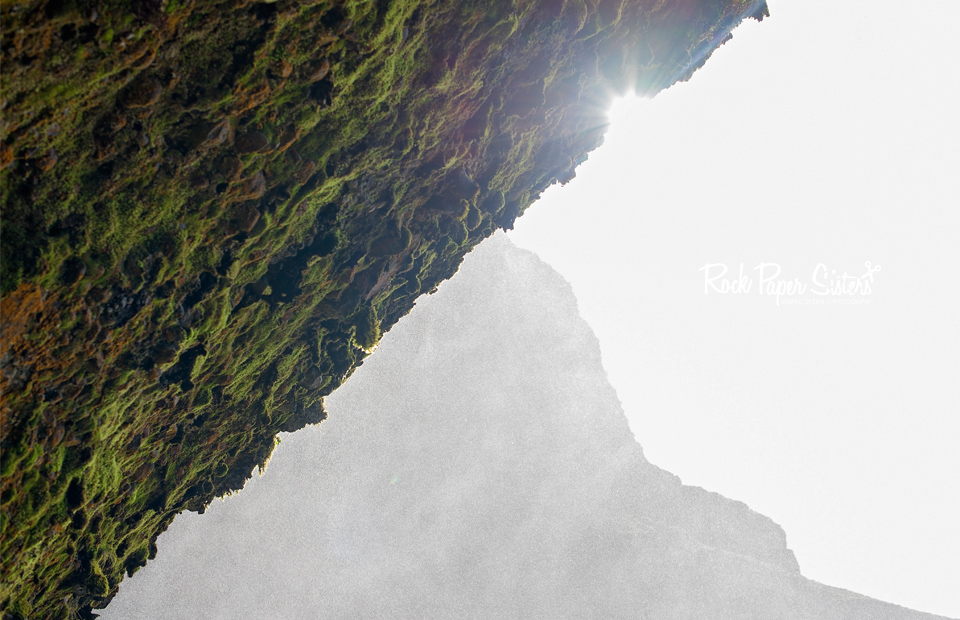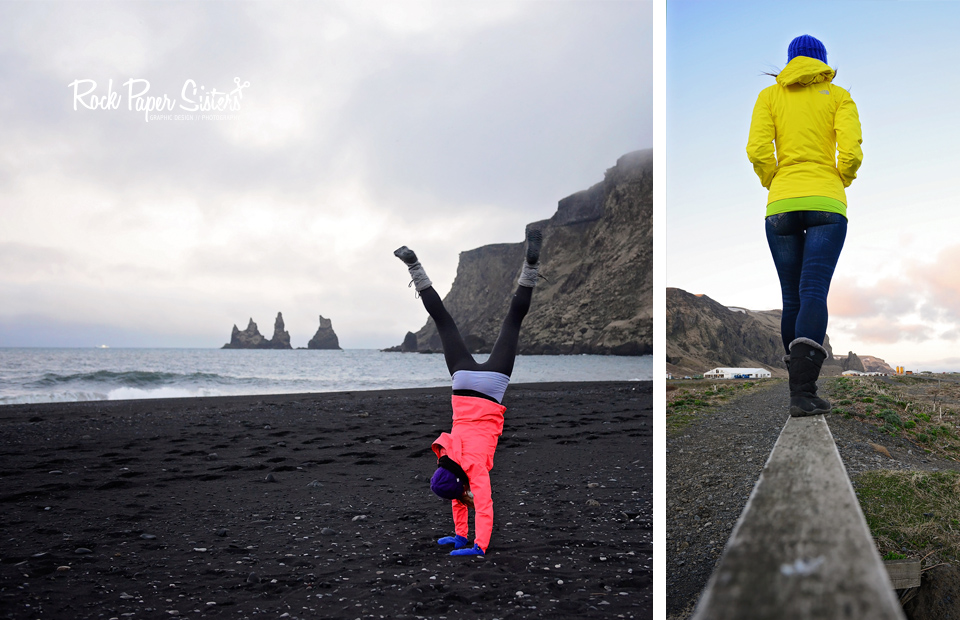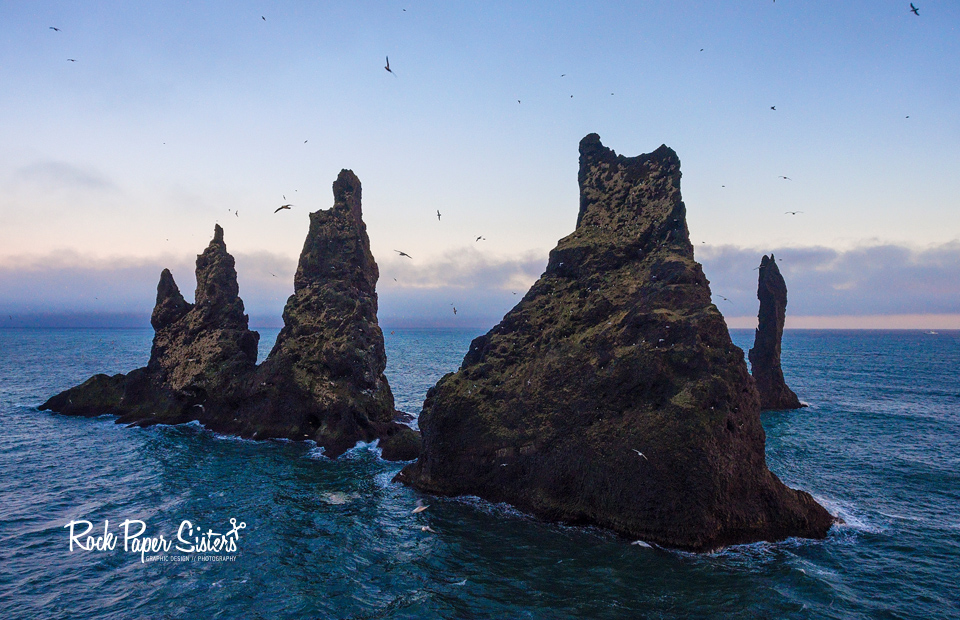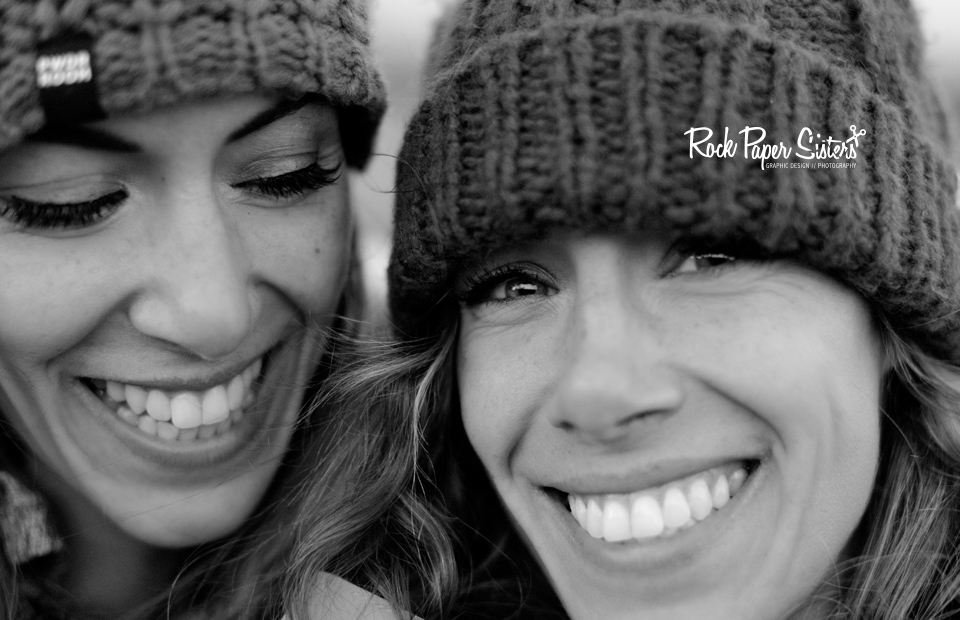 While it seems to be an ongoing theme of us getting lost even with GPS, these little hiccups along the way allow us to find random adventures we otherwise never would have found. This one little hike we stopped at while trying to find Svartifoss (Black Falls) was a nice little uphill cardio we needed to stretch our legs and test our lungs. When we did eventually make it to Skaftafell in Vatnajökull National park we walked 1.8km along the gravel path of bare branches and yellow grass to behold the black lava columns that resembled a pipe organ. Railings had been placed to avoid the sharp rocks that lead up to this waterfall, as it is filled with an overflow of tourists. With a few snaps we made our way back and asked a few people about some interesting stops along our counterclockwise journey. Jökulsárlón was suggested as our next must see.
We put a few more clicks on the campervan and arrived at the icebergs located on the southeast side of the island. Our eyes were instantly drawn to an iceberg that had broken itself free and started making its way past a pod of   seals playing in the middle of the picturesque blue lake. Only a couple kilometers from the Atlantic Ocean, this lake  has rapidly grown as a result of the melting glaciers. Which begs us to wonder why (not saying who) thought it would be smart to drink the "fresh iceberg" water. This was defiantly our favourite spot in Iceland, a true beauty that should be experienced by all.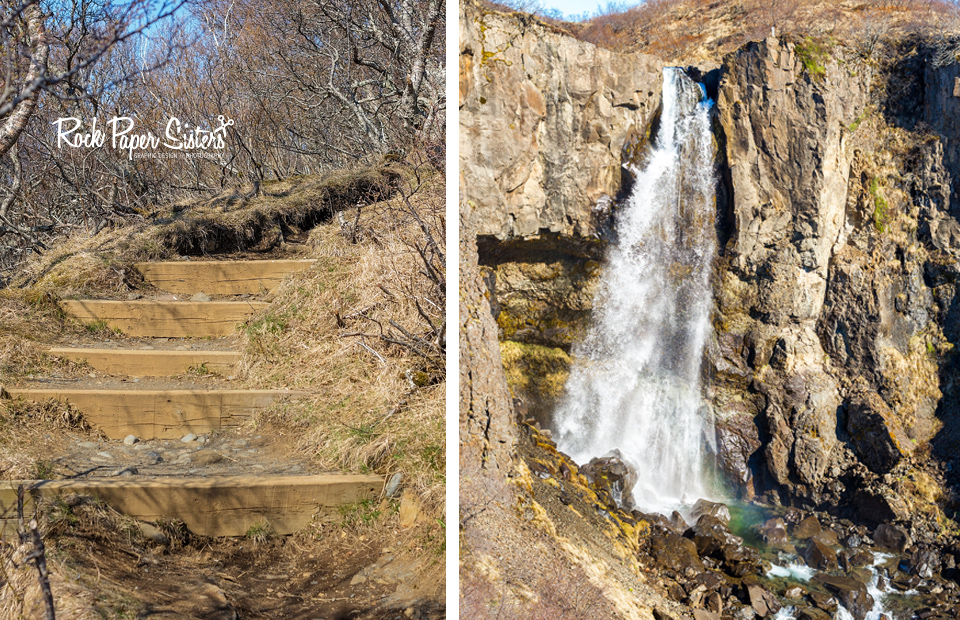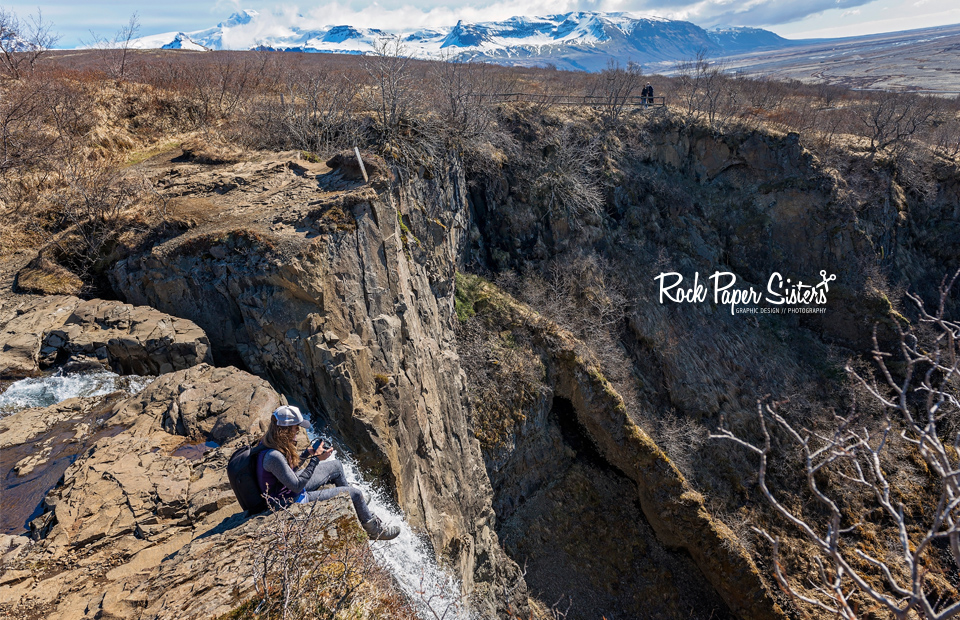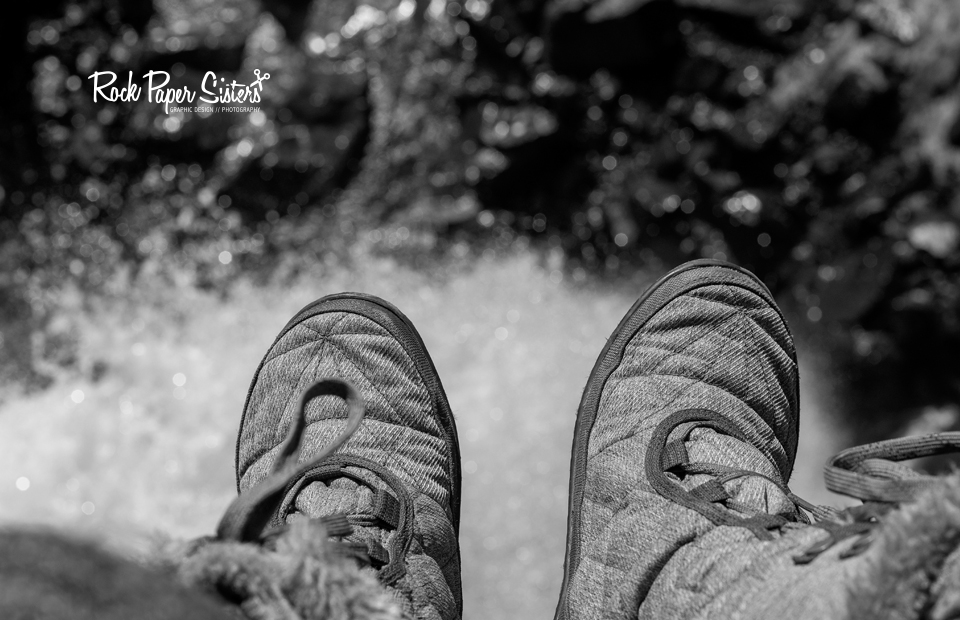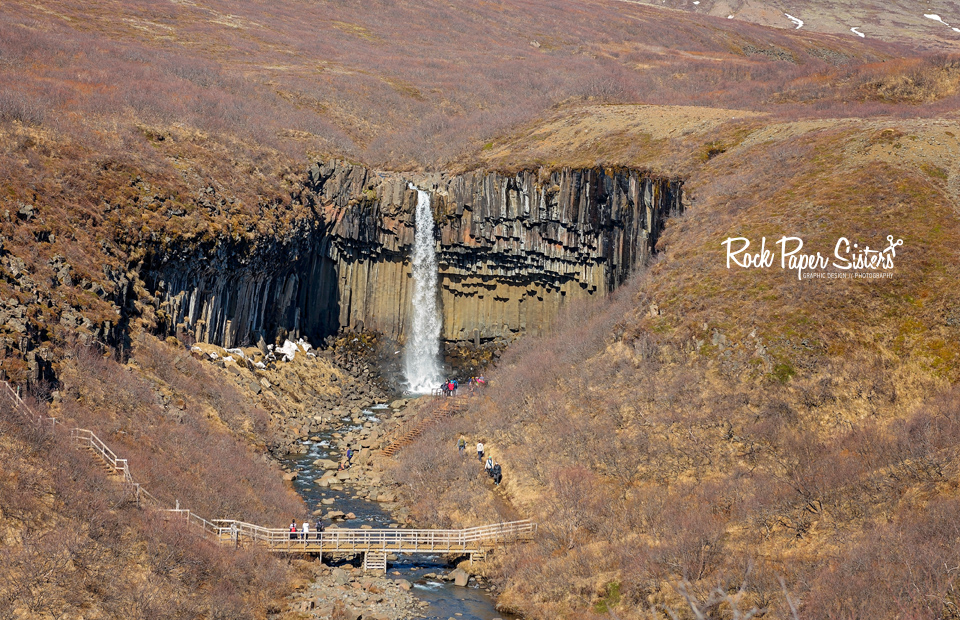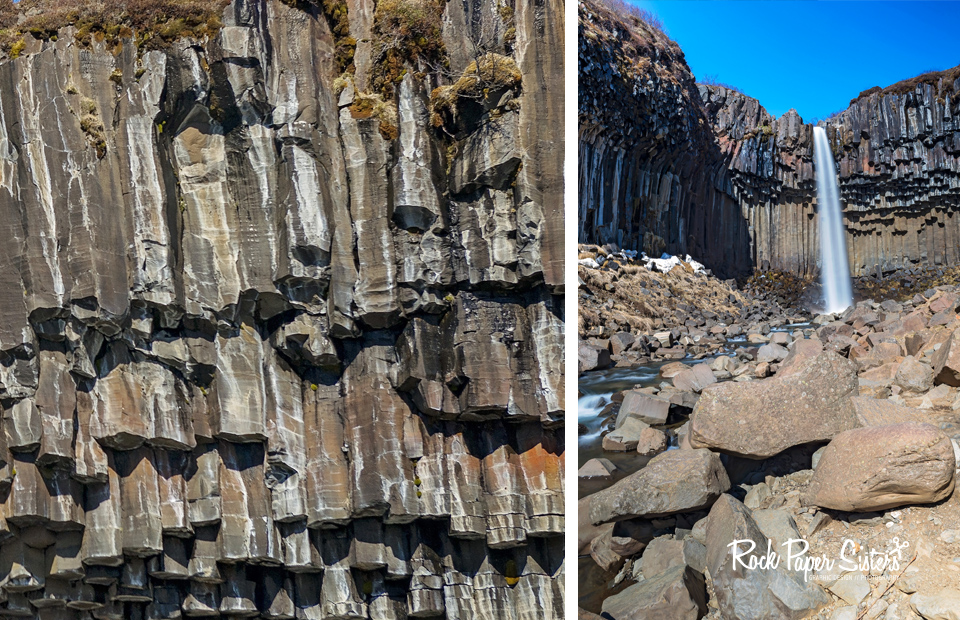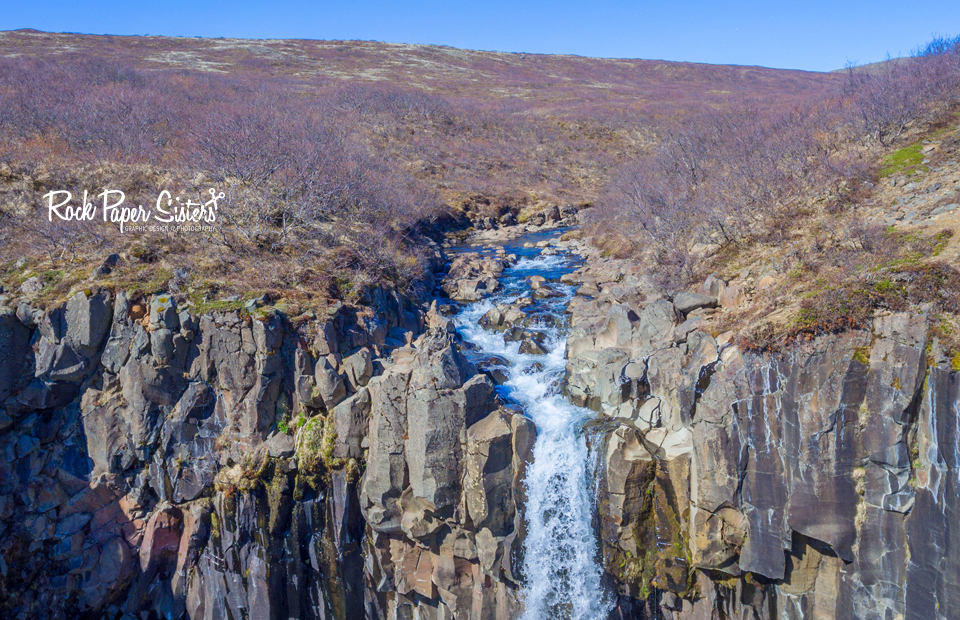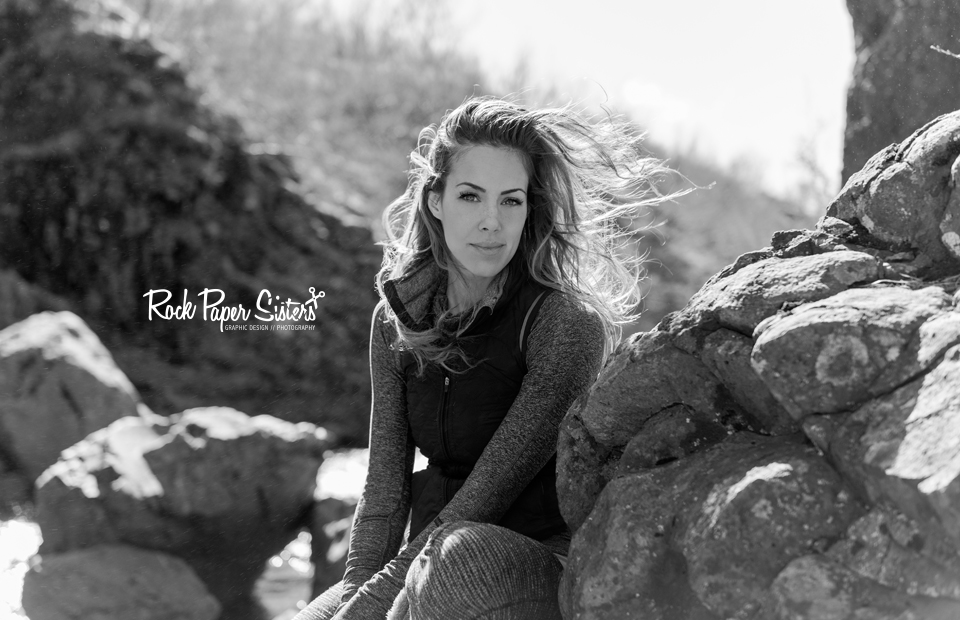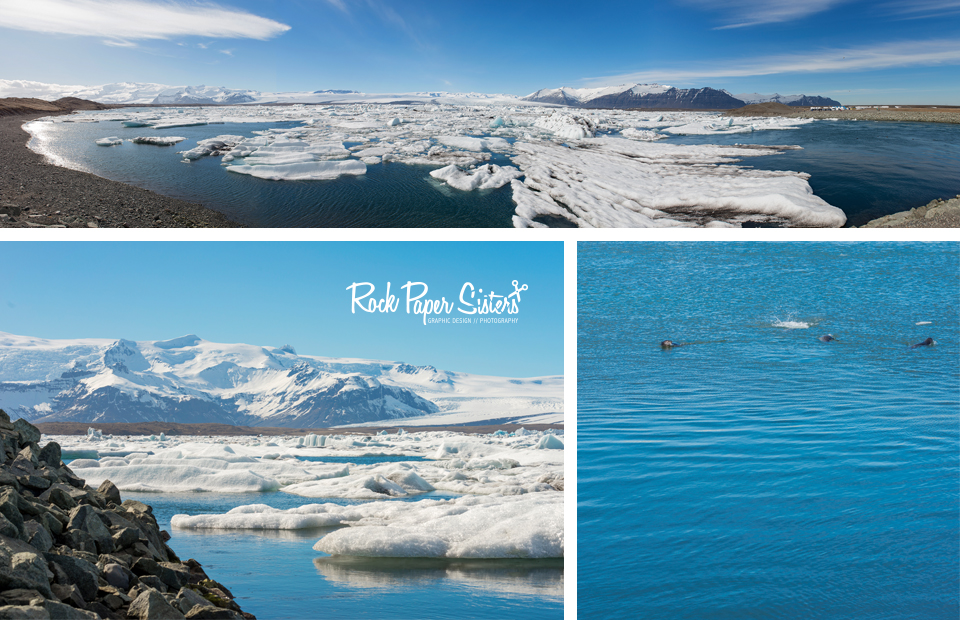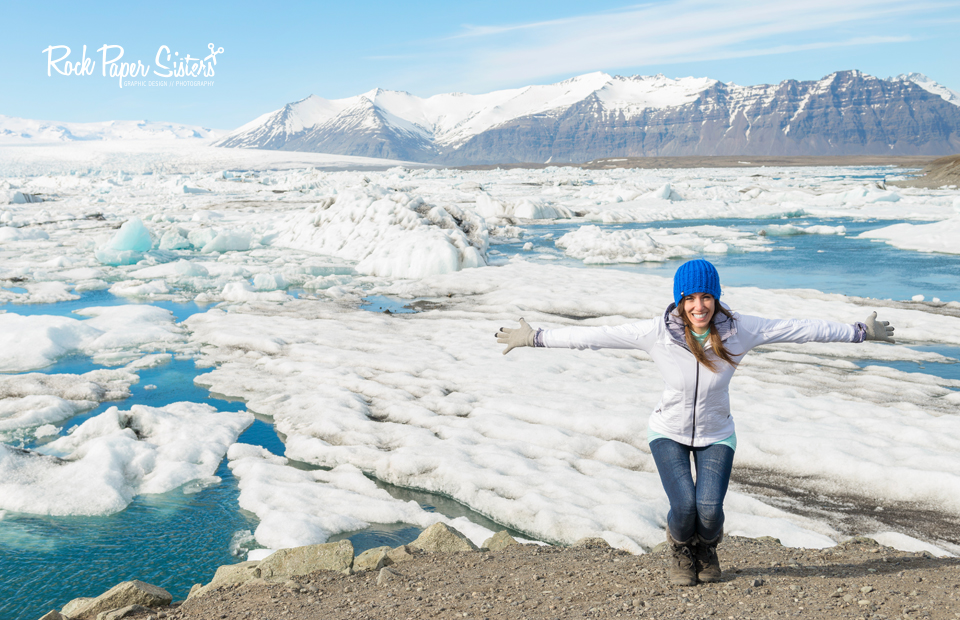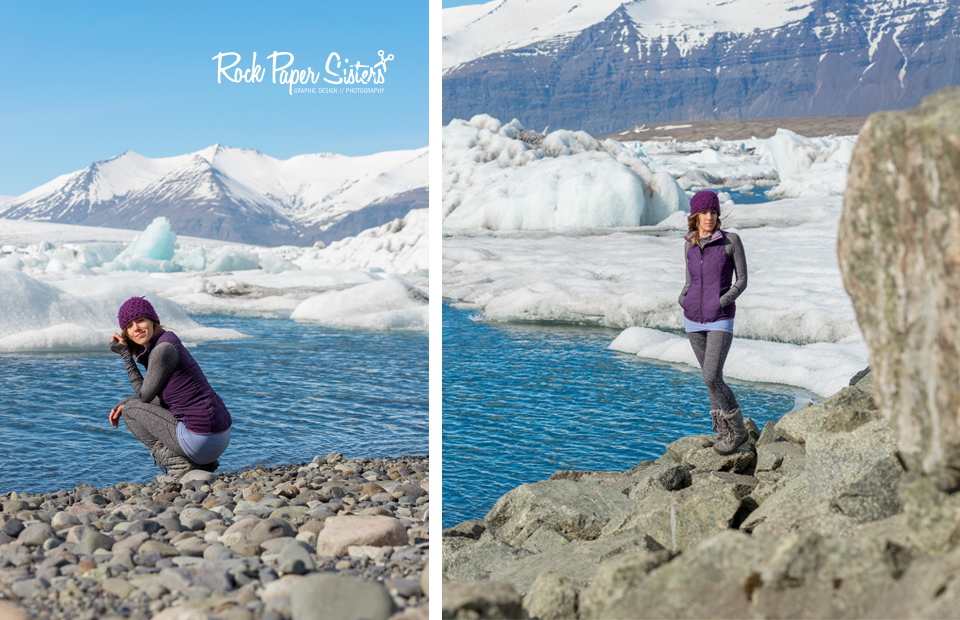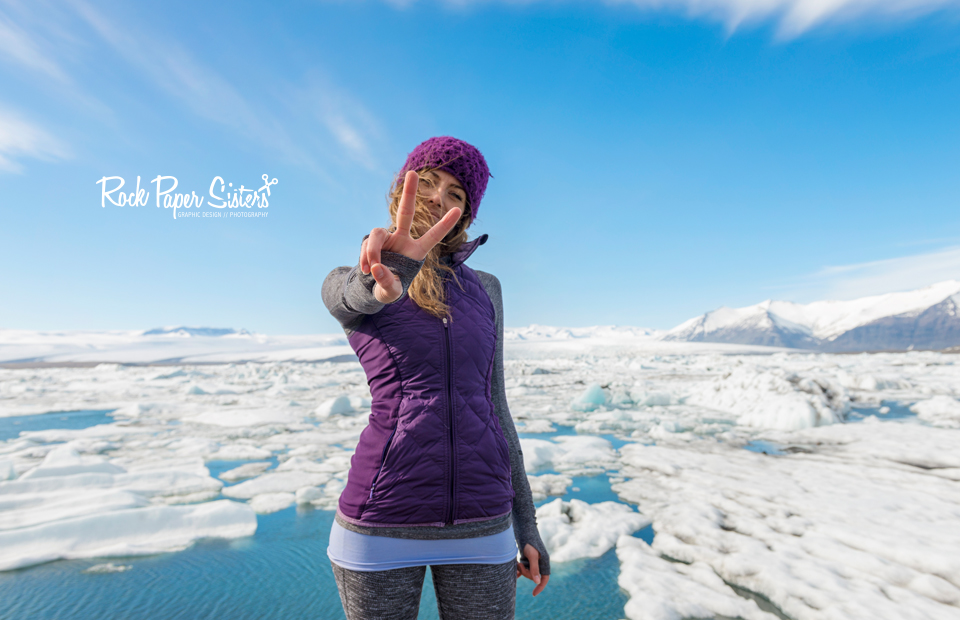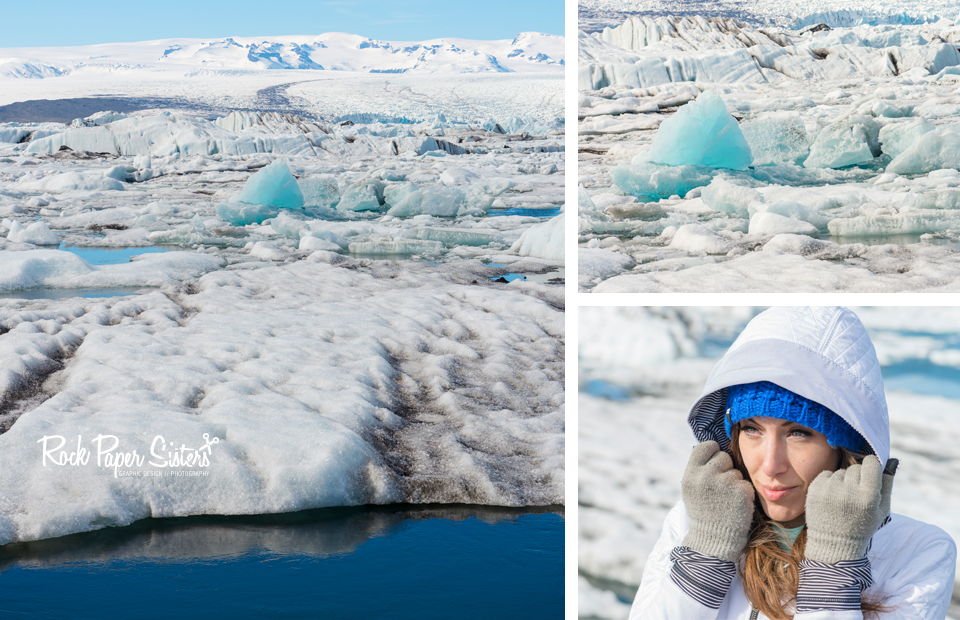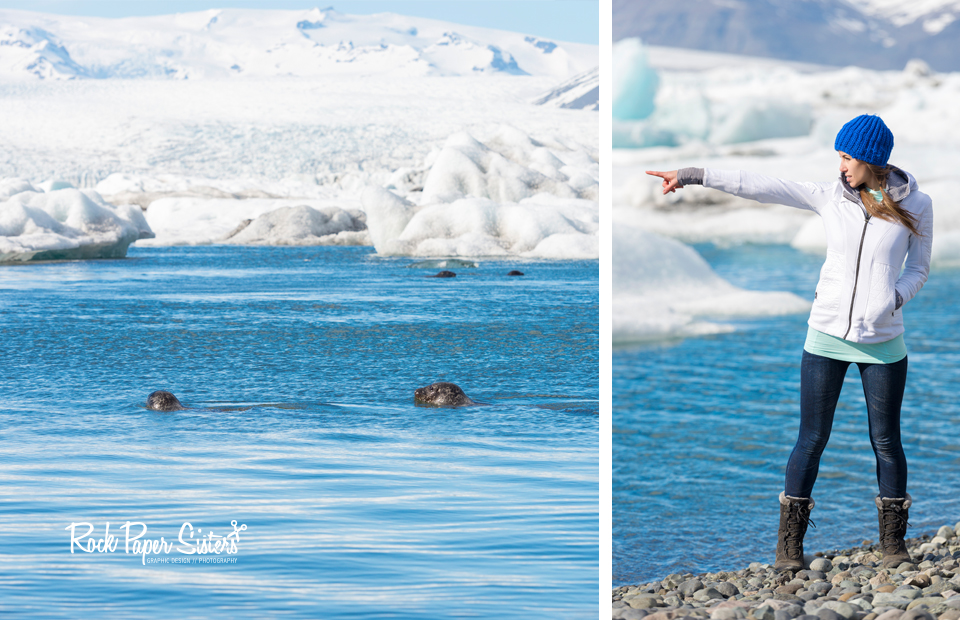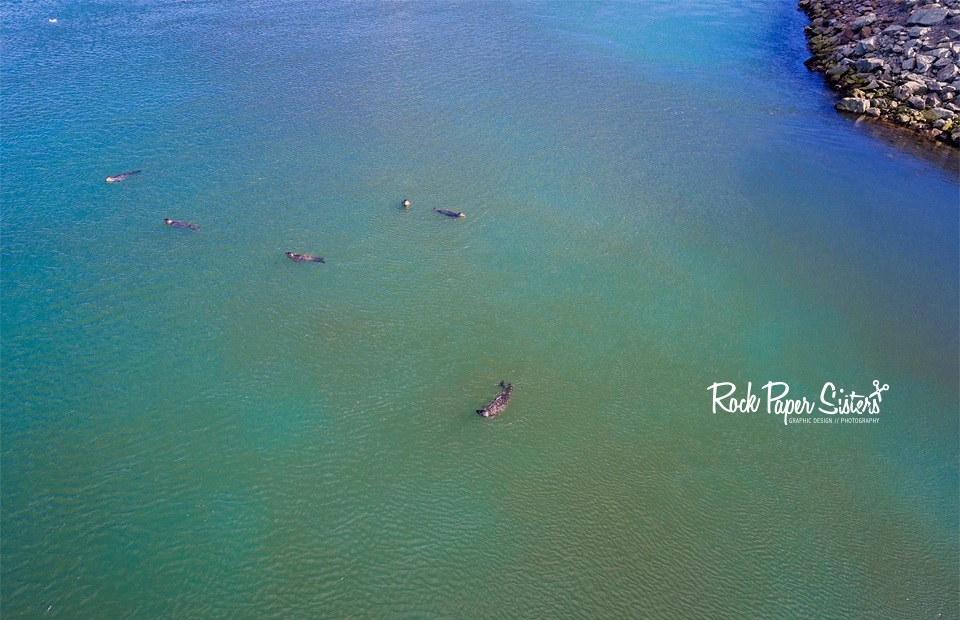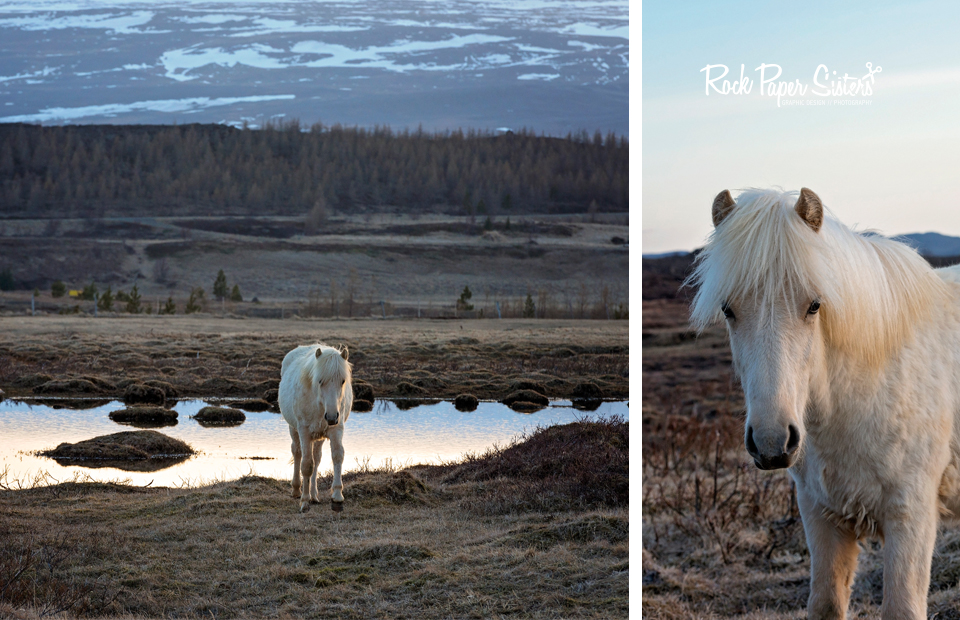 There is a famous scene in the movie Walter Mitty where Ben Stillers character goes long boarding down the road in the little town of Seyðisfjörður,. This road was one of the main reasons we brought our rollerblades with us, only to be incredibly disappointed to find out this was an extremely busy road that was surrounded by snow, instantly crushing a bucket list item before our very eyes. So instead we continued down the road. The smell of sulphur was in the air and clouds of vapour "lured" us to an area that was completely desolate. There wasn't a single trees, bush, or even grass. The landscape gave the appearance we were on another planet, complete with boiling pits of grey mud. Next command we followed along the ring road (although it was a bit of a detour) through narrow gravel roads was a natural hot spring known as Grjótagjá. If anyone watches Game of Thrones, you know the cave 😉 This hands down is the nicest hot spring we've ever seen, the water is a deep blue, shimmering in a cavern that make you feel like you are completely isolated from the world (minus the hoards of tourist constantly entering in and out). On the way out, little word of advise taken from experience, watch your head. It is very easy to forget you are in a cave with a massive boulder for a ceiling.
Waterfalls are everywhere in Iceland that after a while you just start driving by them, however let us offer a second piece of advise… be sure to stop at Goðafoss. This waterfall is massive! The water come from the Skjálfandafljót river, and the waterfall spans a width of 30 meters. Standing at the edge of a waterfall you can feel the energy of nature below you… guess that's why they call it the "waterfall of the gods." For our final stop of the day we ended up driving to Húnafjöur, while racing the sun. As we were getting closer to the sea-cliff we couldn't see the elephant rock we were looking for. We bared the strong winds and walked closer to the edge and long behold we were able to capture the elephant against the most beautiful sunset during our entire stay in Iceland. The sky shifted back and forth between purple, pink and red as if someone was playing with a dimmer switch, it was the perfect end to our long day.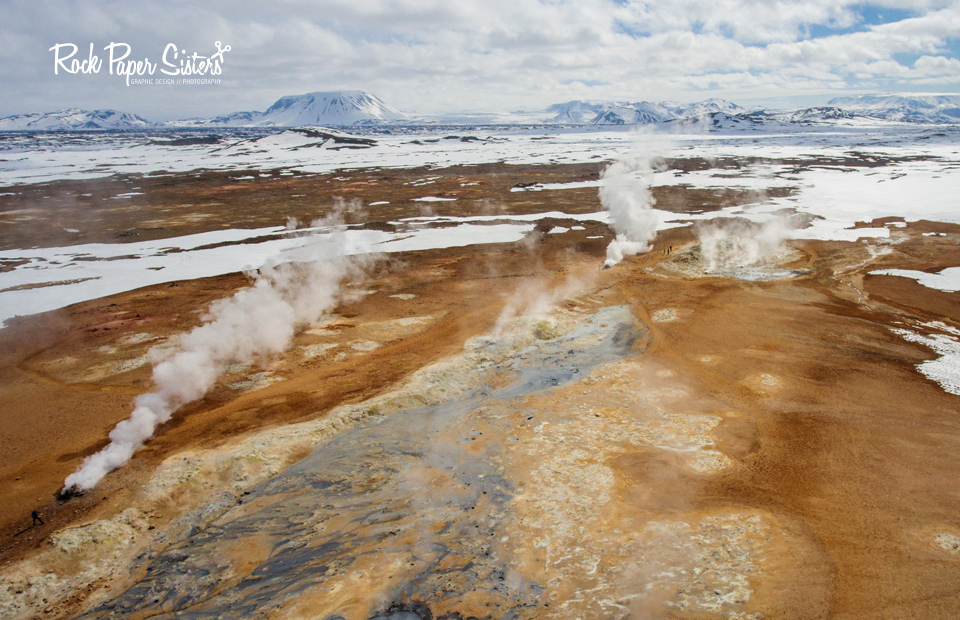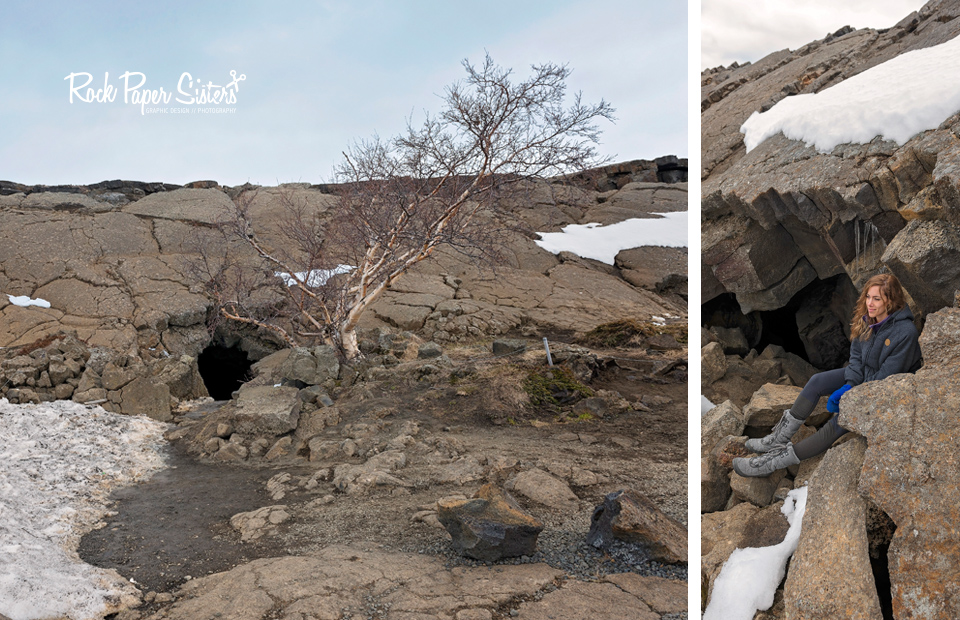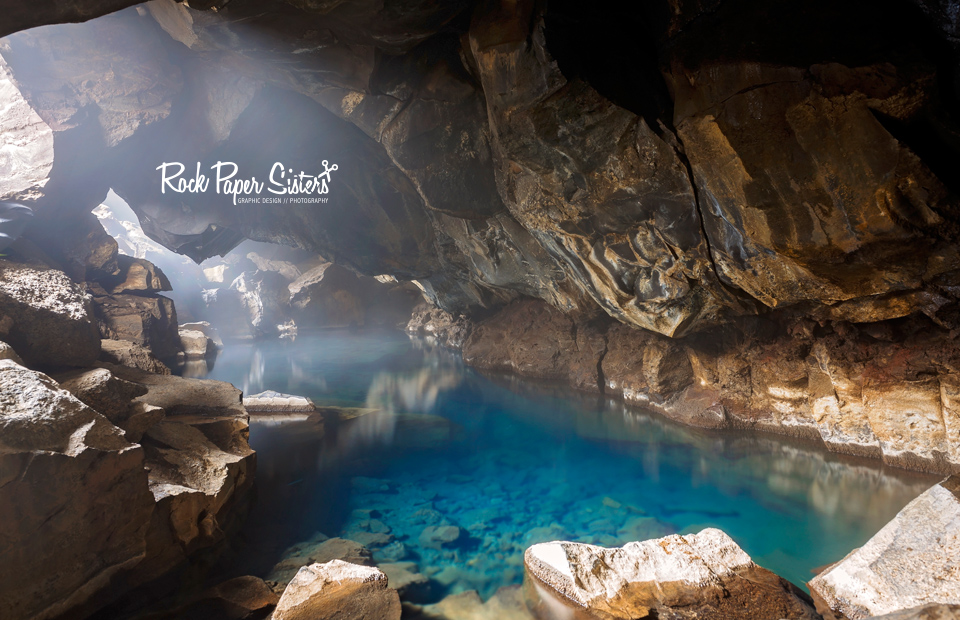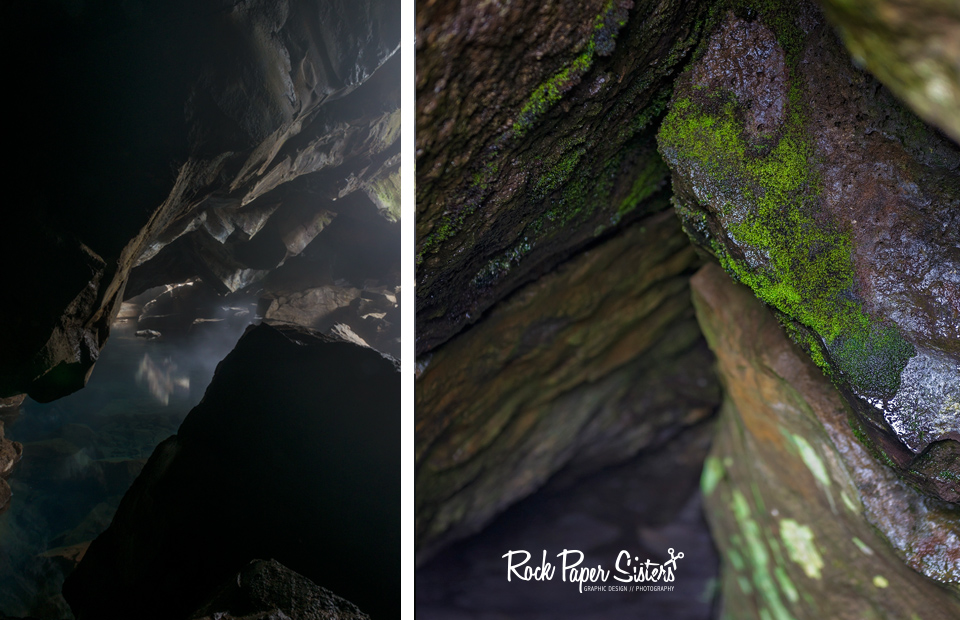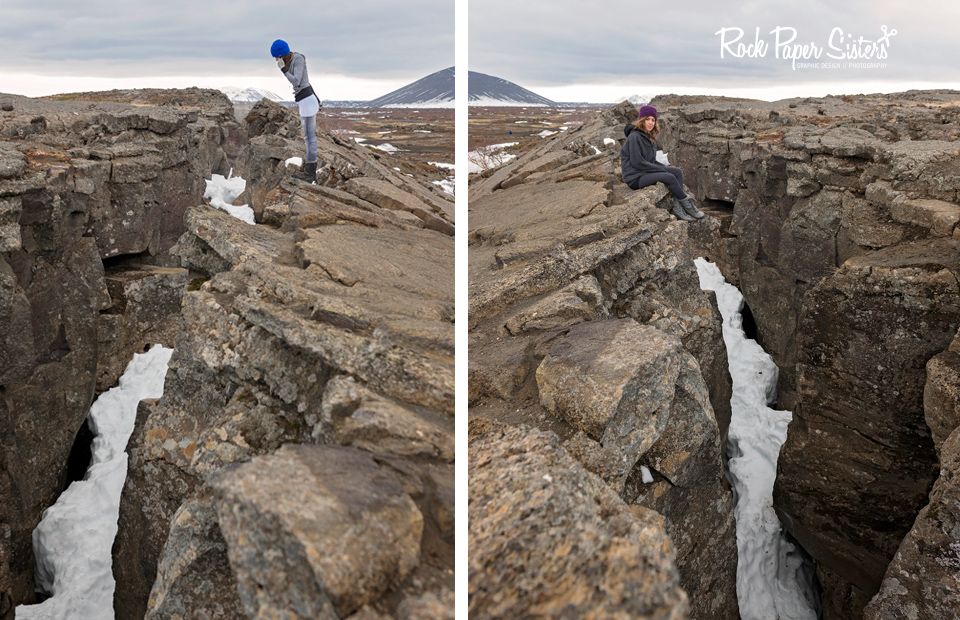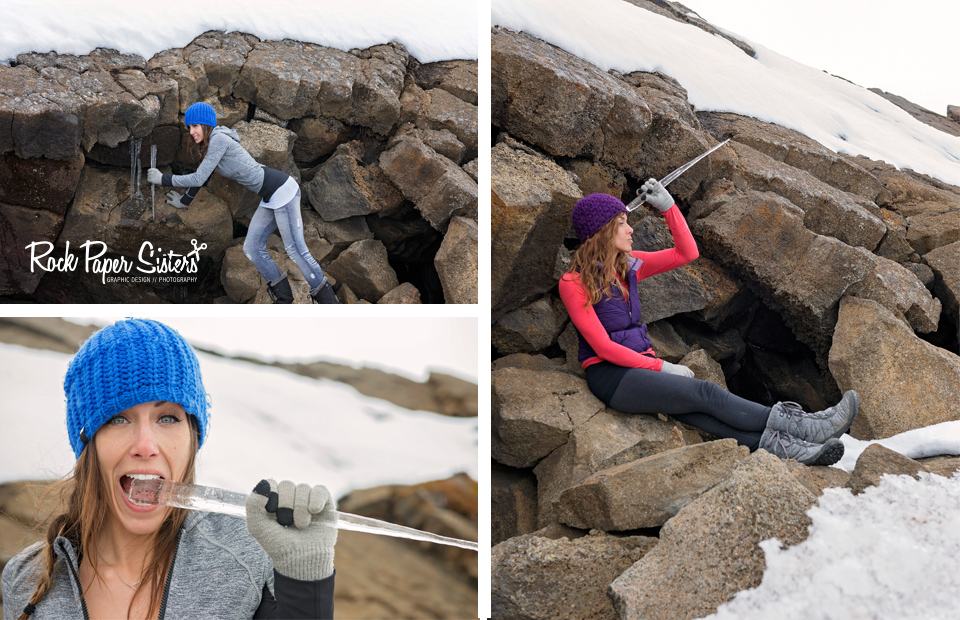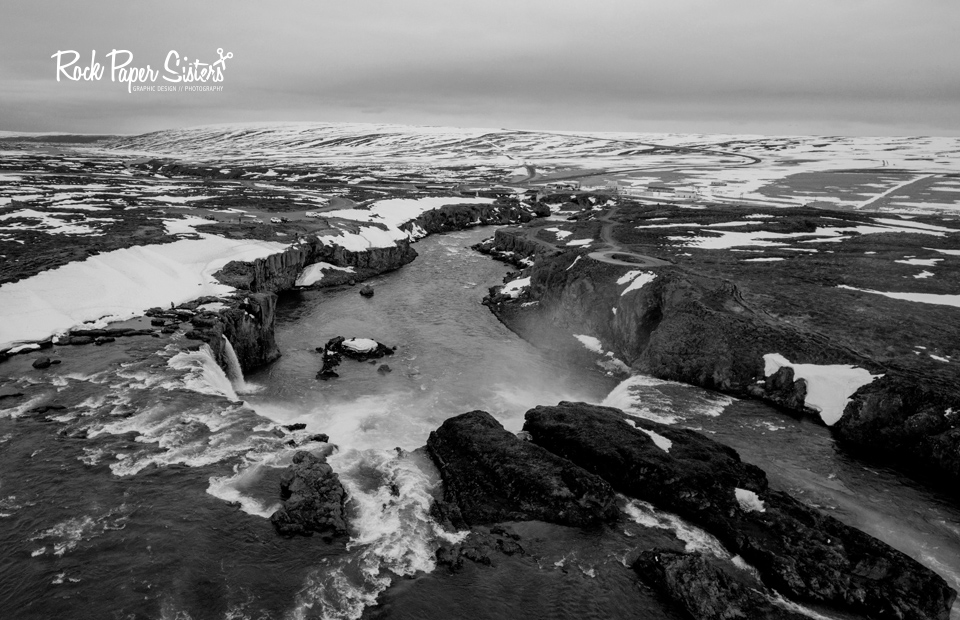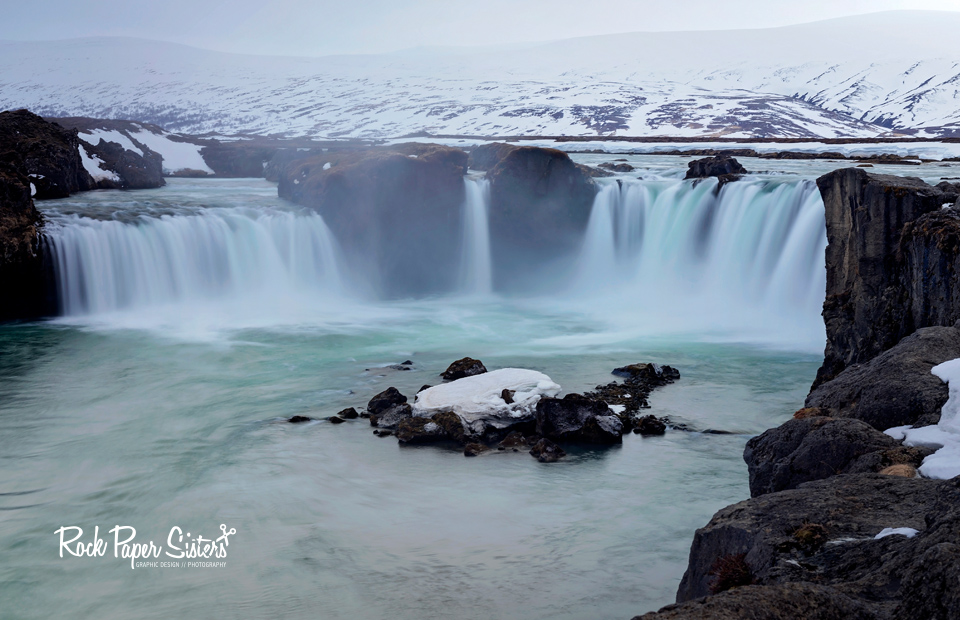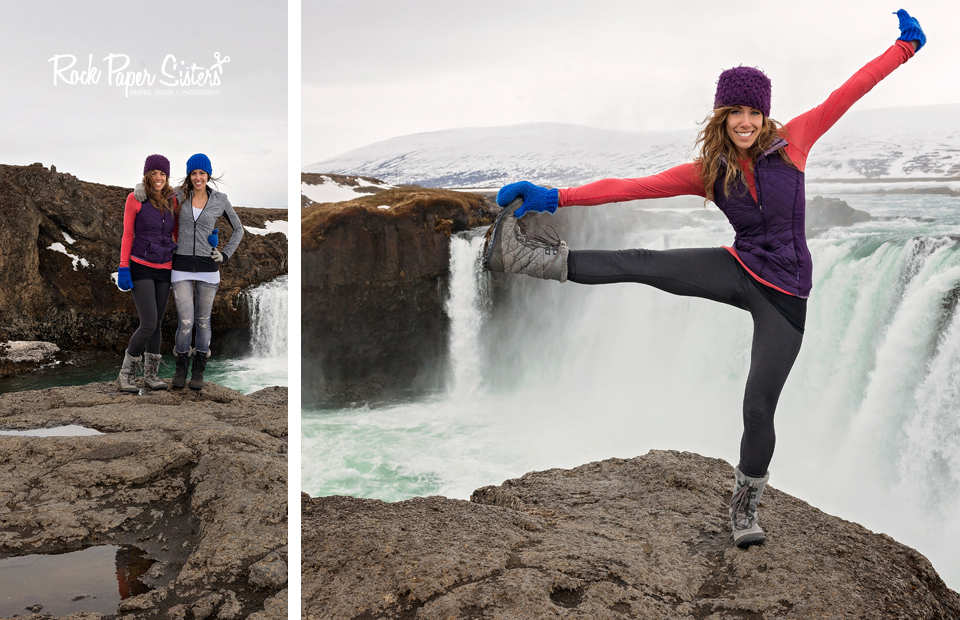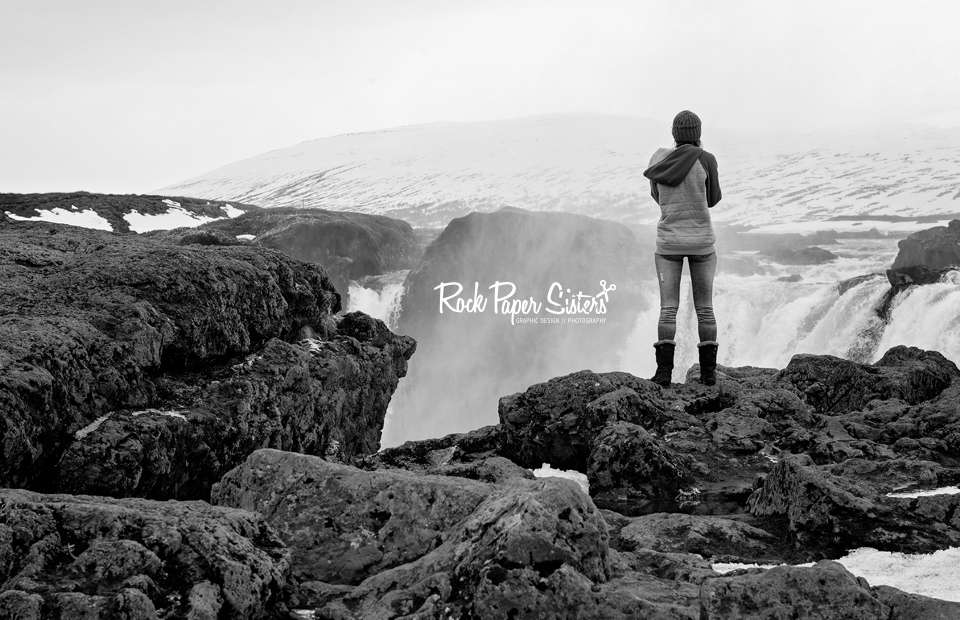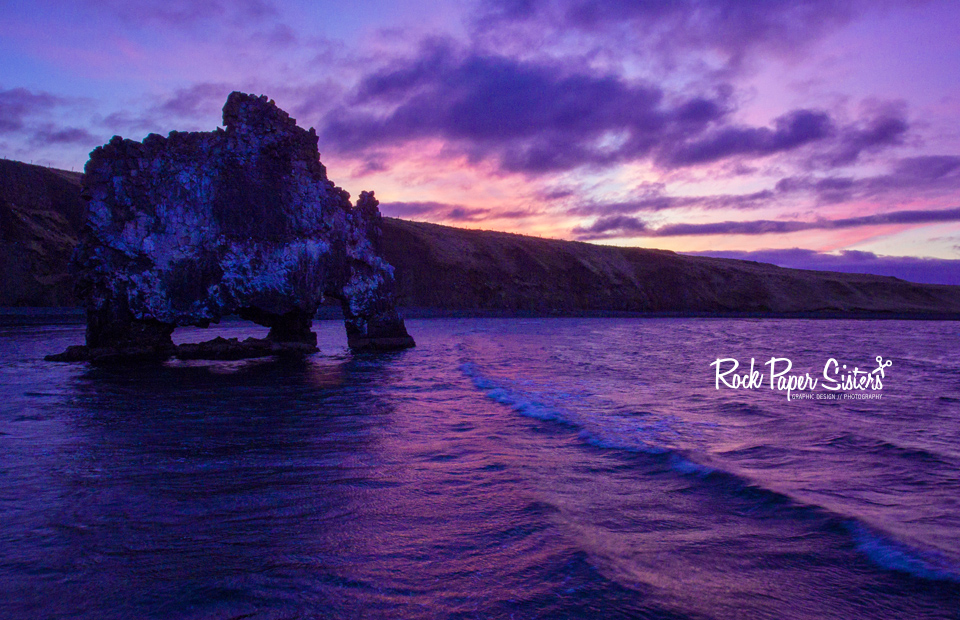 We decided to spend the night in Húnafjöur, that way we could wake up for a sunrise and capture the elephant rock from another angle… but no such luck. We awoke to thick clouds of grey with not even a hint of light peeking through, so we slept in our campervan as it rocked us back to sleep with it's prevailing wind gusts. Eventually when we woke up we made our way down the cliff again, but unlike the night before the weather was not cooperating. It was one of the coldest days we experienced on the island, and needless to say, we didn't stay too long. Hoping the weather would be a little warmer up at Þingvellir National Park we were sadly mistaken. We walked around the park and took a pathway towards Öxarárfoss waterfall, where even on a tripod we had to time the wind gusts to ensure a sharp image. We played around on the rocks like we did as kids, before heading to Silfra (the tectonic boundary that separates the North American and Europe plates). We initially wanted to scuba dive in "the worlds clearest water" but a few factors made it an easy choice to pass on, primarily being the freezing cold drysuit diving. So instead we watched those brave souls come out one by one with the reddest cheeks we've ever seen, and asked every person who passed by, "So… how was it?" with a lot of the same responses, "FREEZING!" We were already freezing from the high winds in the national park that we made our way back to our van, and while we had a quick bite to eat, we were convinced that we were going to roll over and blow away. Next stop was to go on a puffin tour near Stykkisholmur Harbor, but we had come a few weeks too early, so we settled for some "beautiful" seagulls. The sky was just covered with them. This little harbour town was very picturesque with individual houses each painted a different vibrant colour than the next. This was our last stop on the ring road before we made our way to Reykjavík.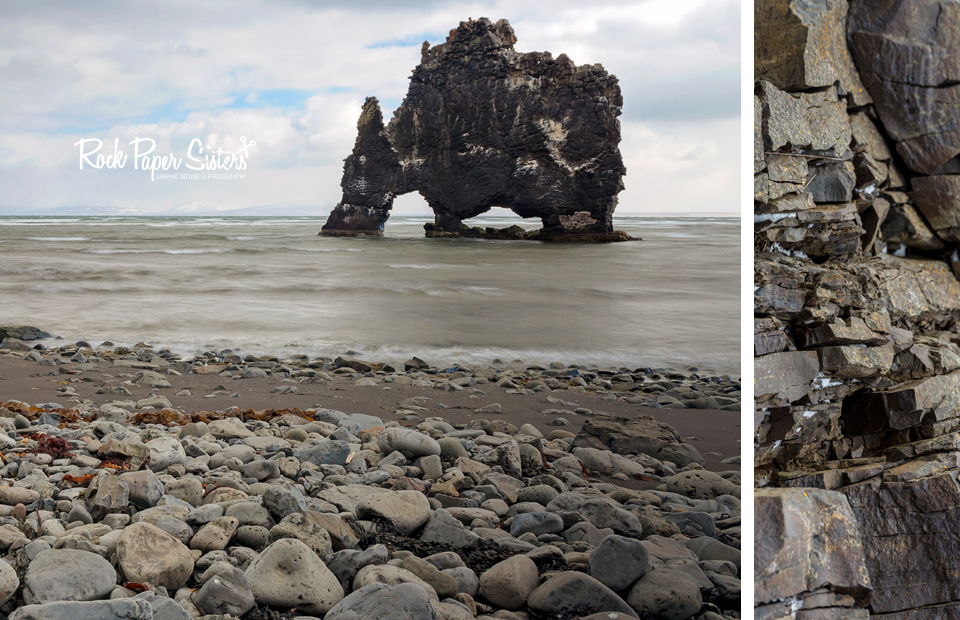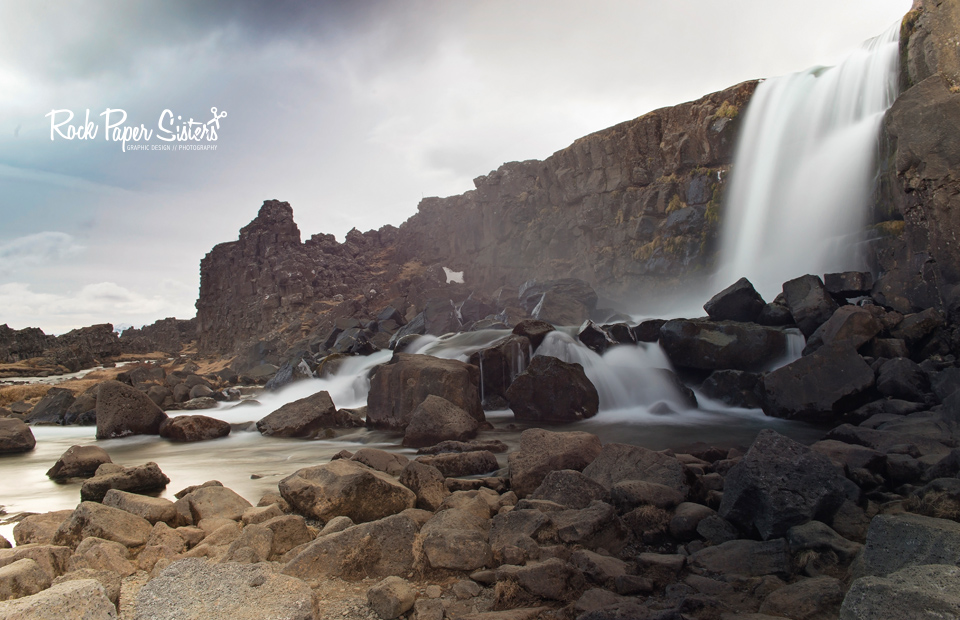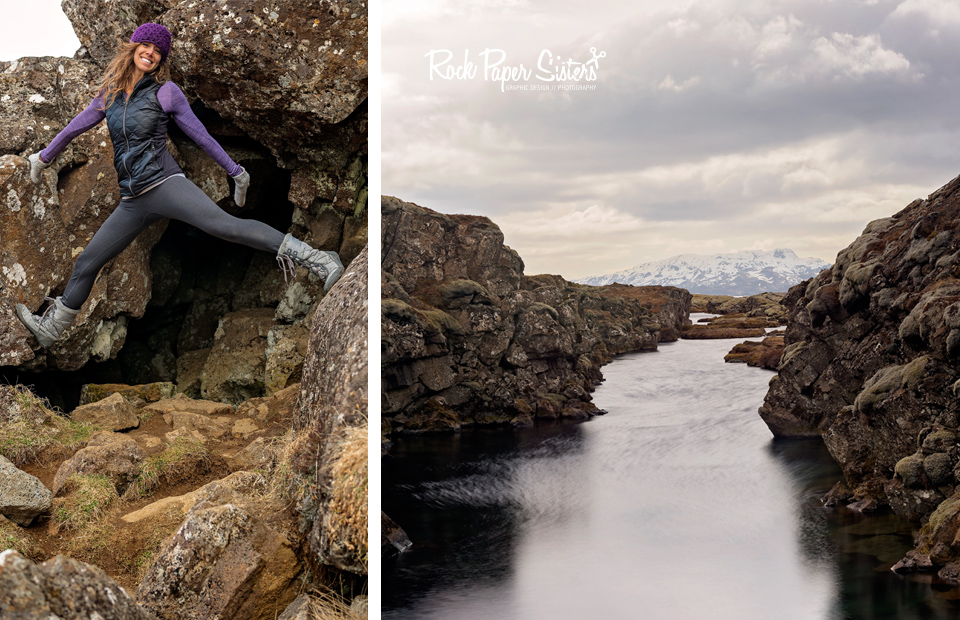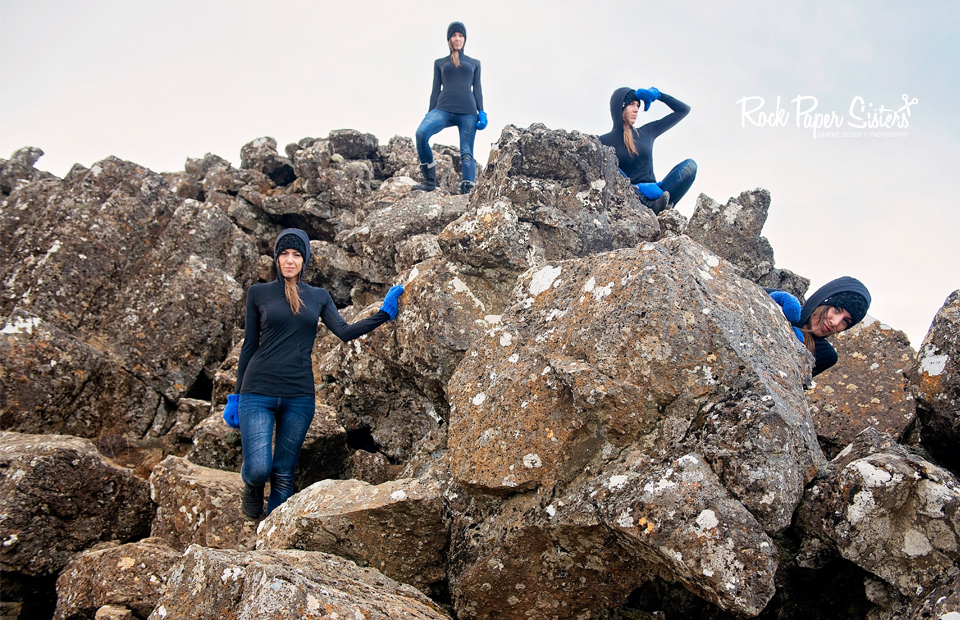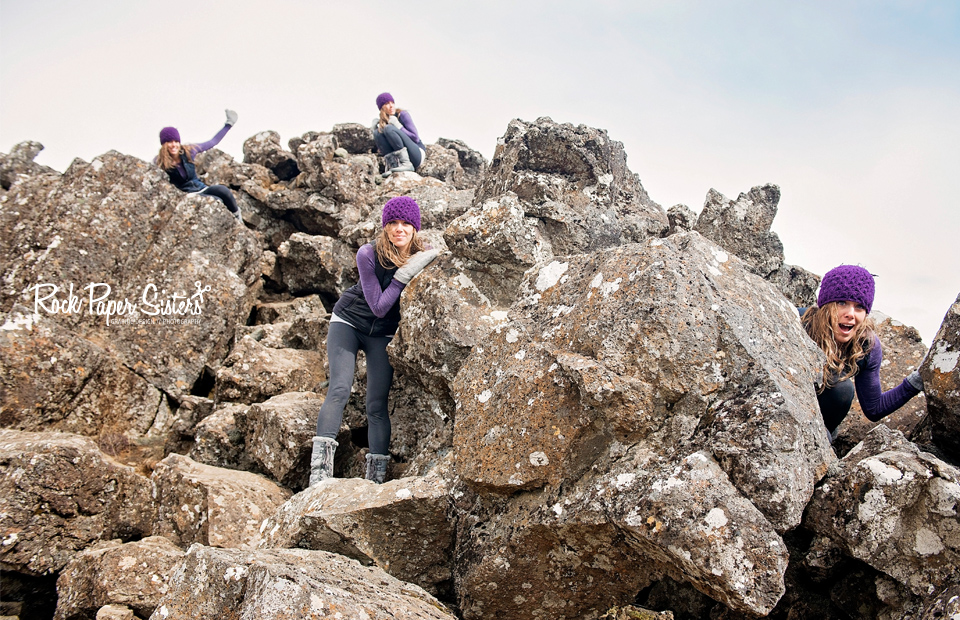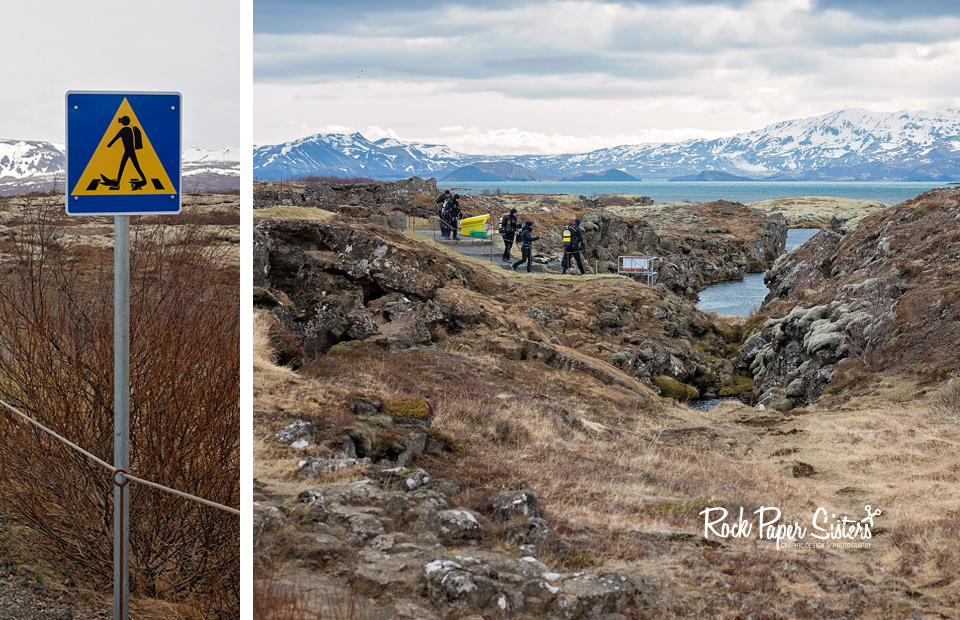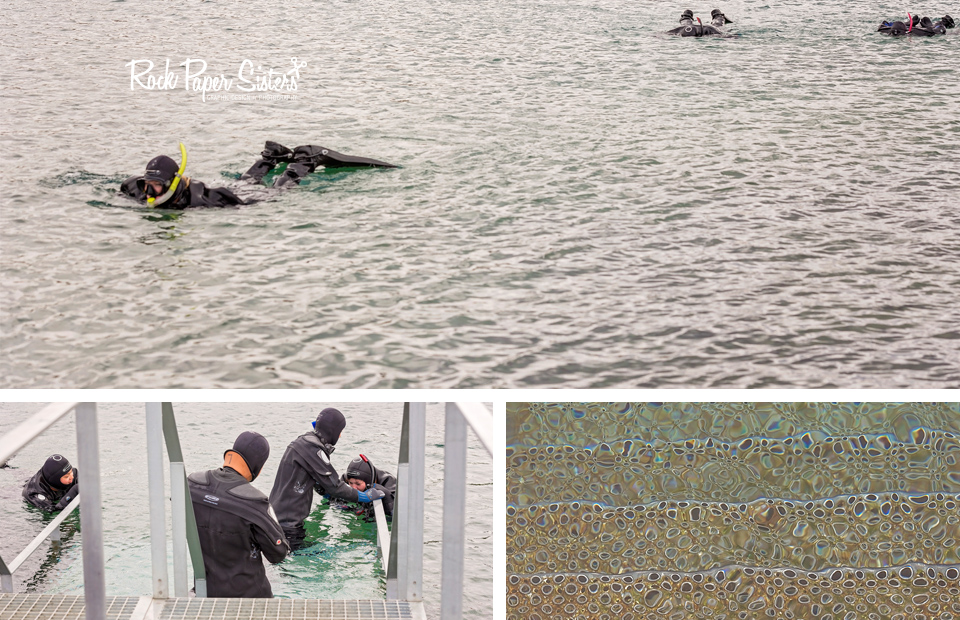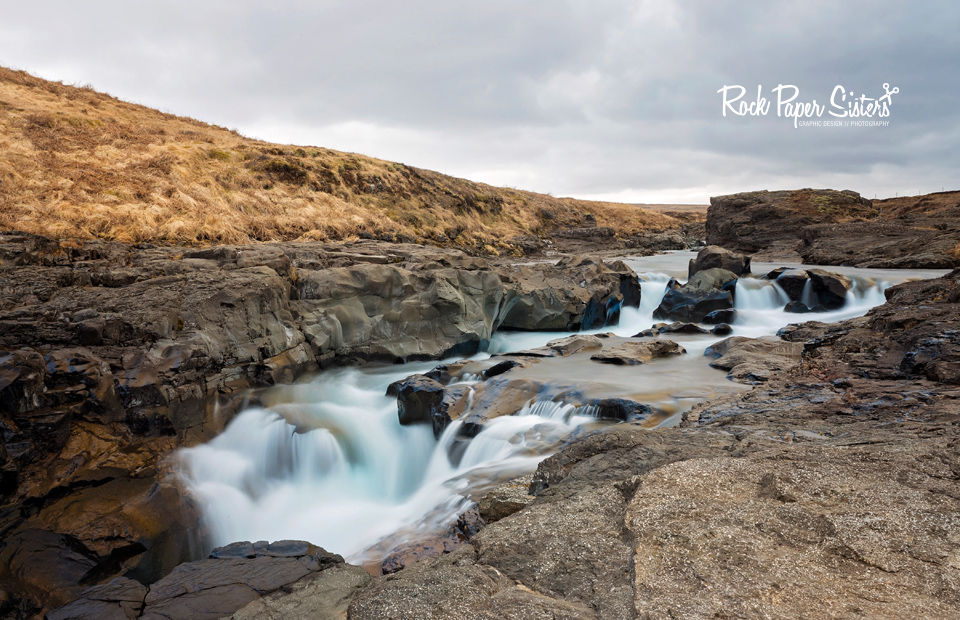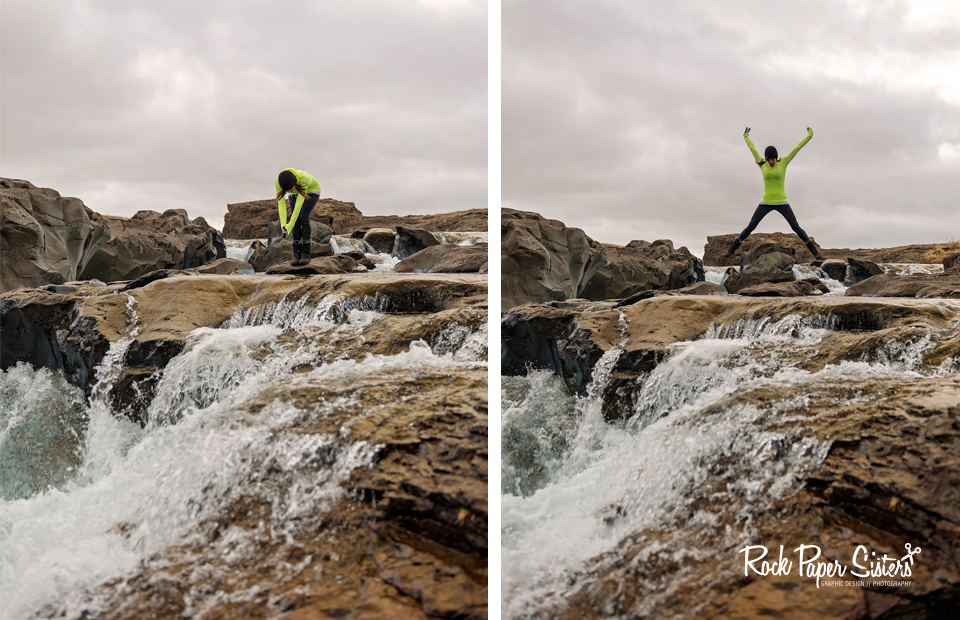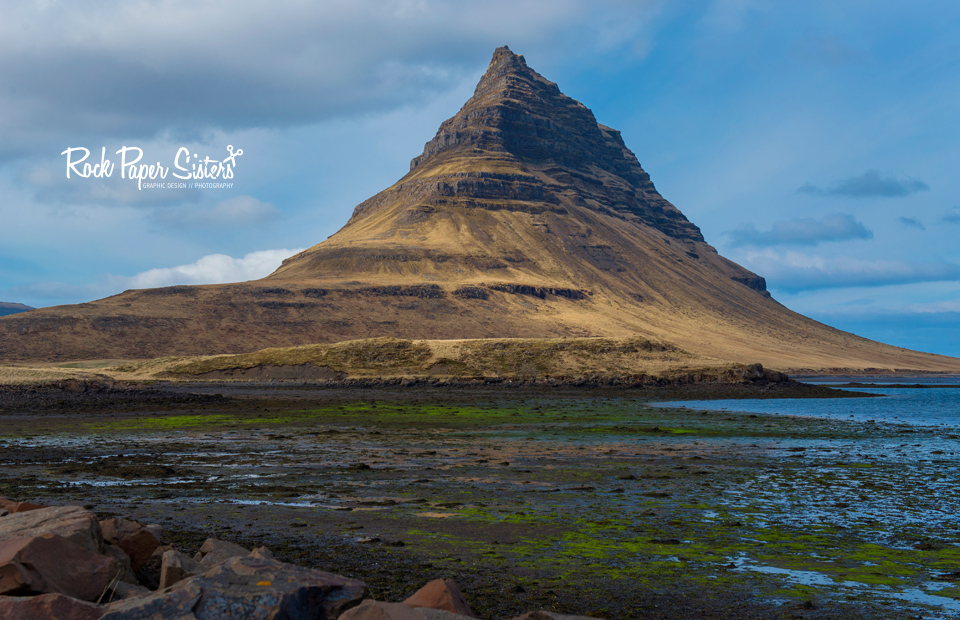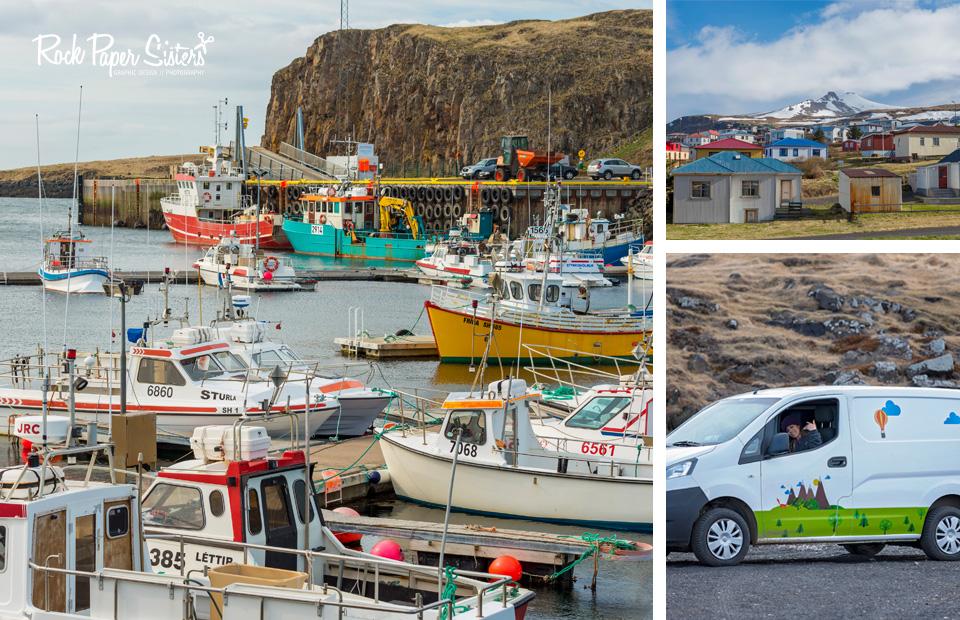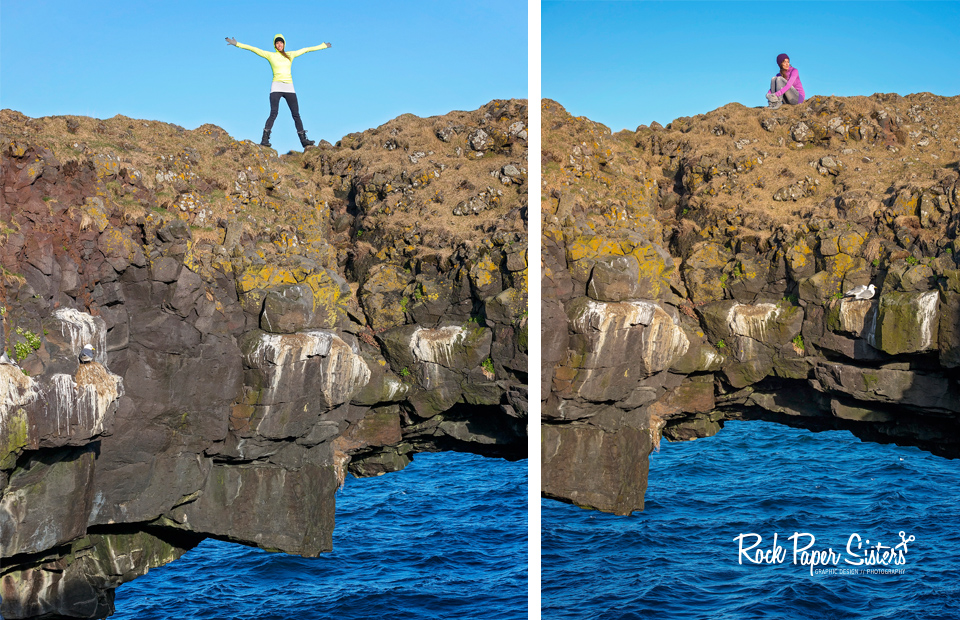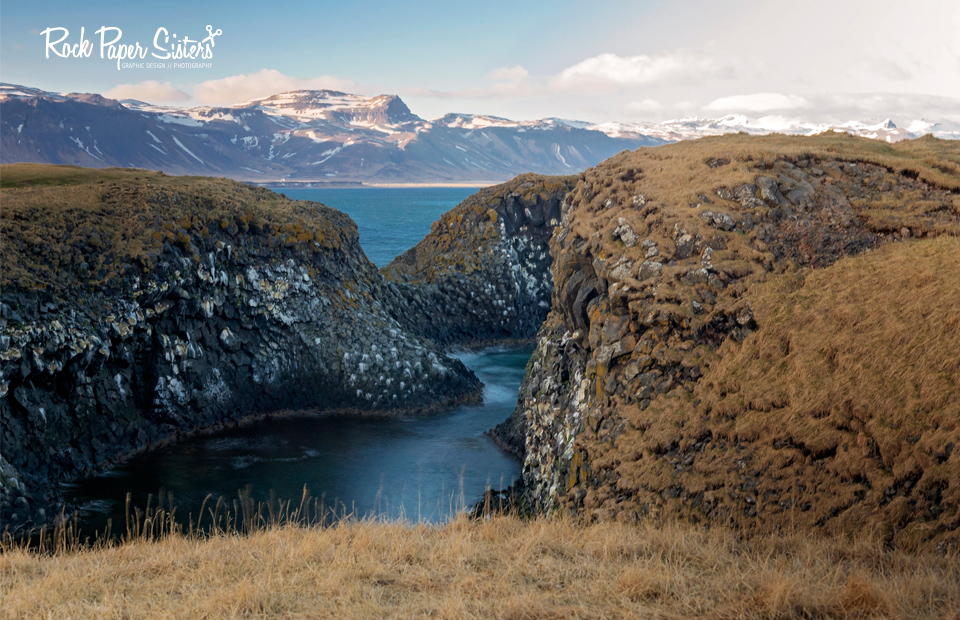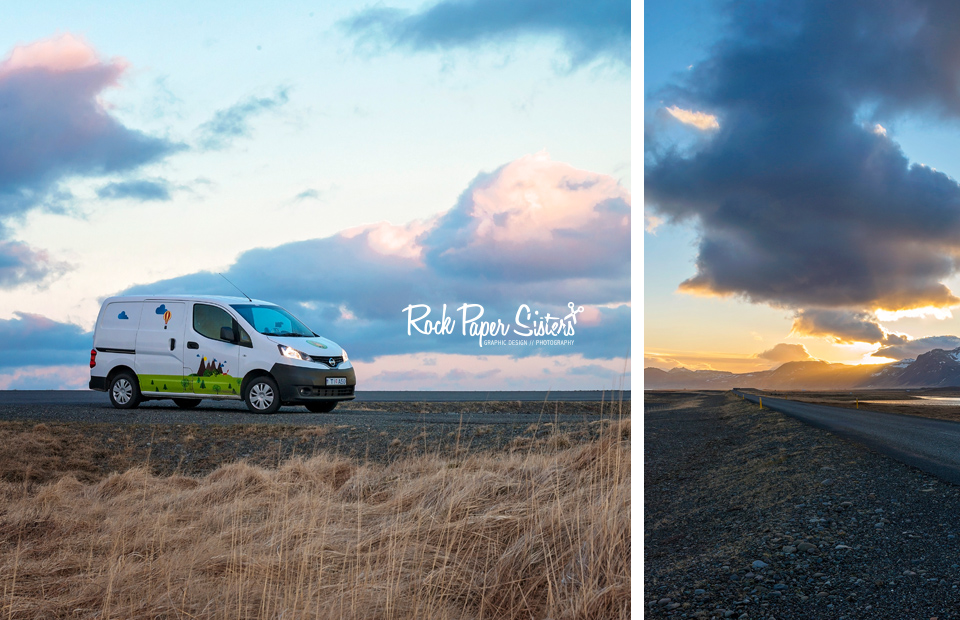 While we weren't able to rollerblade where we had originally planned (due to snow and traffic), it wouldn't feel right if we didn't break them out at least once while we were in Iceland, so we kept an eye out for some nice paths as we drove around. We ended up finding a nice path along a body of water, eventually stopping to enjoy the cityscape of Reykjavik. Before we said good-bye for good, we searched for a nice place to spend our last night.We settled for a nearby beach equipped with more seaweed and seagulls than we cared for, but it was a beach nonetheless. We pulled out some lawn chairs that the camper van came equipped with and enjoyed our last sunset in Iceland together playing in the sand and enjoying each others company before our next stop… Switzerland!